Ever since the inauguration of its first resort back in 1981, Sandals has taken the luxury travel scene by storm. Nowadays, the upmarket Jamaican hotel chain has become a household name, operating 16 plush resorts throughout the Caribbean plus many more under its family-friendly "Beaches" collection.
Aside from the white powdery beaches and unbridled opulence that define each Sandals resort, the brand has become a benchmark for the romantic all-inclusive retreat. Every resort is strictly couples-only and includes (almost) everything you could need: a sure-fire way to enjoy an amorous and stress-free holiday.
So which Sandals resort is the best?
Well, it kind of depends on what you're into.
Let's check out the top seven Sandals resorts to help you find your very own slice of all-inclusive paradise in the Caribbean.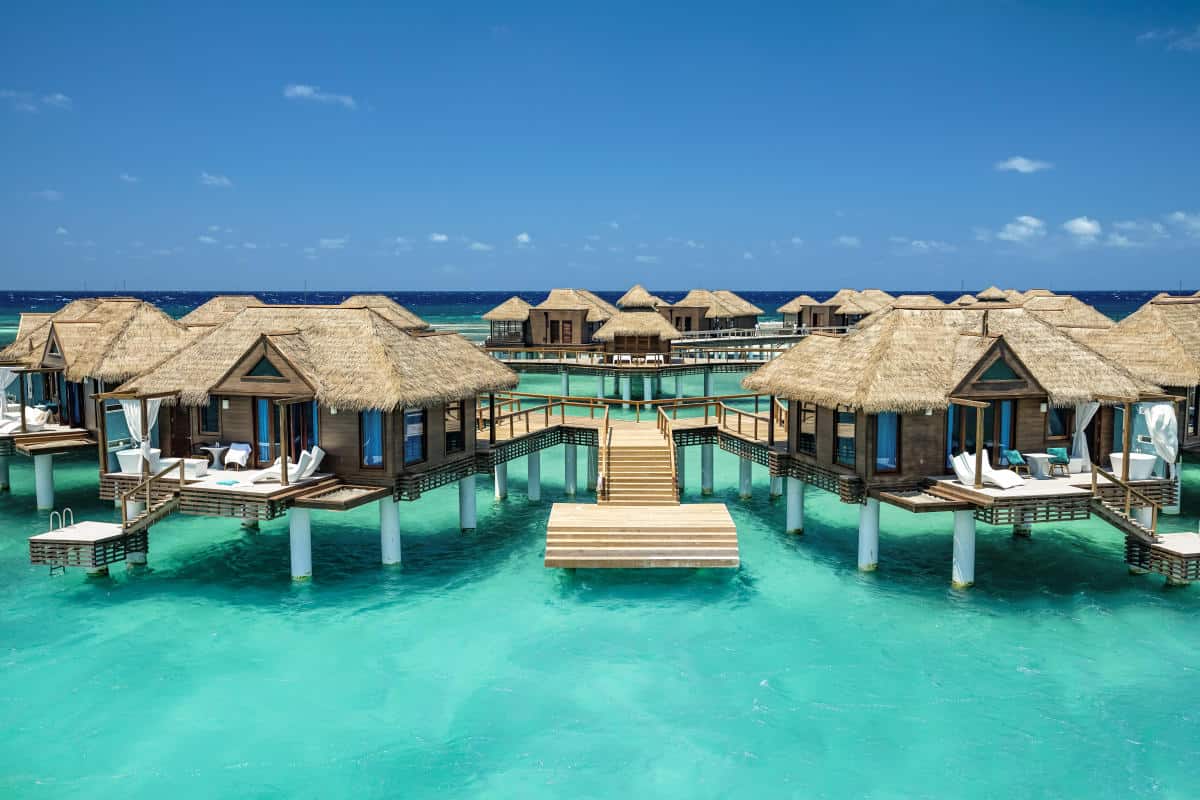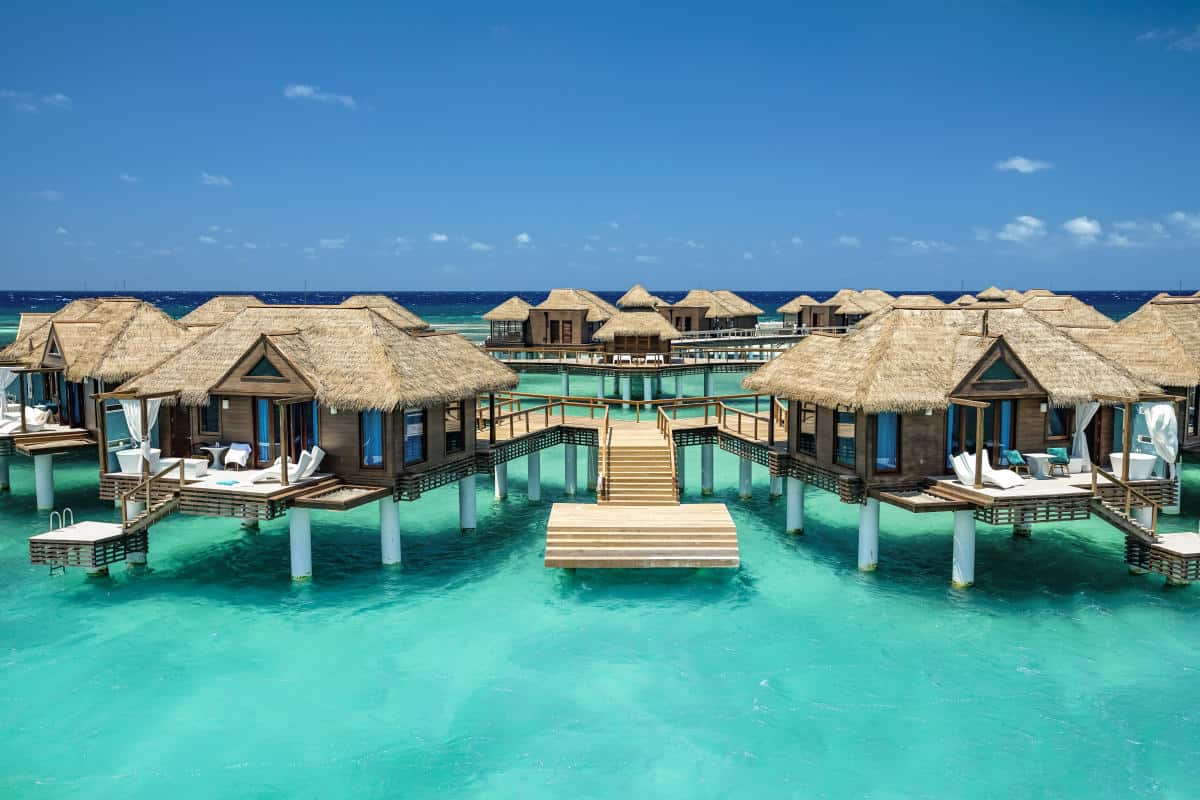 Sandals Royal Caribbean Resort, Jamaica
Overwater bungalows galore
A mainstay in the Jamaican tourist hub of Montego Bay, the Royal Caribbean has long been luring loved-up couples to its lux oceanfront lodgings. But it's a more recent innovation that's turned up the romance: the 2016 inauguration of its Maldives style overwater villas.
The ground-breaking development finally meant well-heeled American's would no longer have to travel halfway across the world to get their floating bungalow fix, causing it to become a breakout success. Unsurprisingly, a series of copycats quickly spawned throughout the region.
Nevertheless, the Royal Caribbean's original overwater offerings make it a highlight of the Sandals range.
Sandals Grande St. Lucian, St Lucia
Luxurious villas
If you're dreaming of a secluded villa vacation that doesn't float precariously over the sea, then the Grande St. Lucian is the landlubber alternative for you.
This expansive oceanfront resort on the northern tip of the country boasts villas of every shape and size: grandiose penthouse apartments, breezy little beach huts, and sumptuous swim-up suites.
Fun-filled amenities abound for when you finally venture out of your villa. A soothing well-equipped spa, five individually themed pools, and green fees to a nearby 18-hole course are just some of the pre-paid for activities on offer.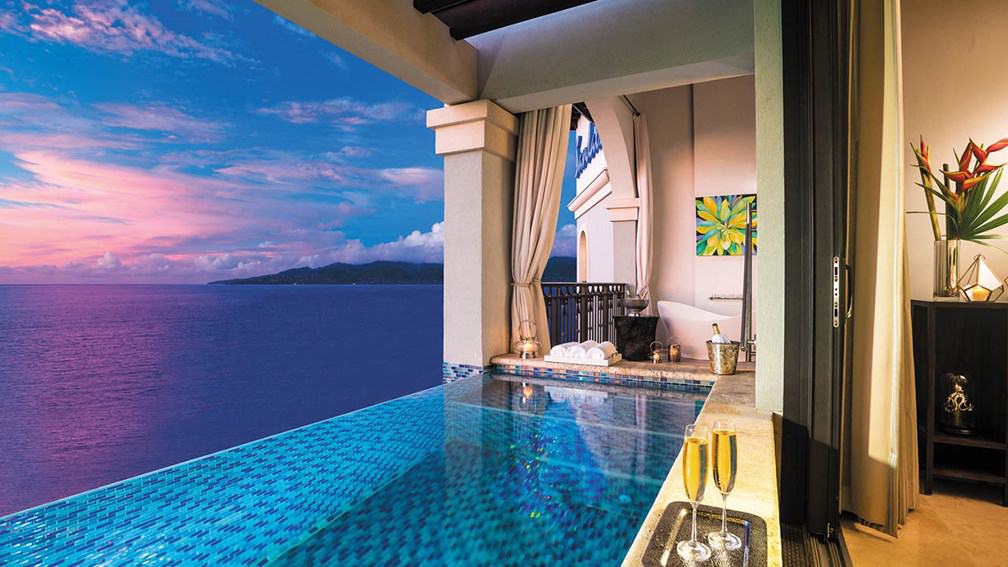 Sandals Grenada Resort and Spa, Grenada
Seldom-explored paradise
Situated towards the bottom of the Caribbean island chain, the "Spice Island" receives far fewer visitors than its northern counterparts. And of the smattering of resorts on the island, Sandals makes the best base to explore the country's nutmeg plantations and colorful colonial buildings.
Of course, you could kick back around the hotel's five enormous pools instead. Butler service extends all the way down to Pink Gin Beach where hammocks and sunloungers abound.
The classic all-inclusive resort is divided into multiple sections, the best of which include the European inspired Italian Village and the intimate Love Nest Suites. Swim up access and private infinity pools are some of the features you can expect in the upper-tier rooms.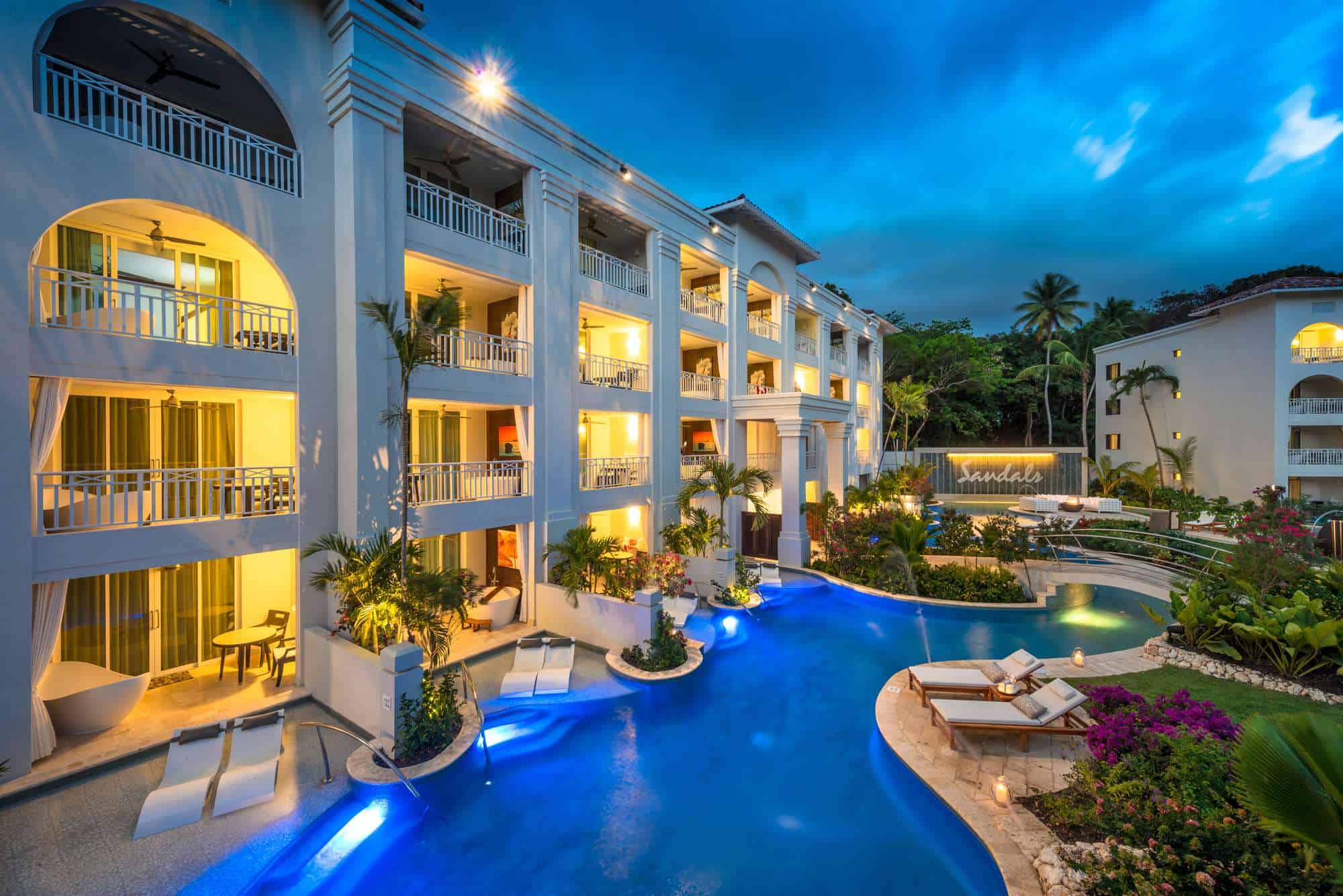 Sandals Royal, Barbados
Unrivaled luxury
Vacationers seeking the most luxurious Sandals property on the market should make a beeline to Barbados. The Sandals Royal Barbados truly is fit for a king, especially its ocean-facing Love Nest Suites which come complete with tranquillity soaking tubs, suspended cantilevered infinity pools, and full butler service to cater to your every whim.
Outside your outrageously opulent villa, you'll enjoy six restaurants serving flavors from around the world. The seductive Red Lane Spa is a top spot to relax, while the decadent craft beer lets you sample 19 exotic varieties at your leisure.
Exploring the island's natural attractions through the in-house travel agent is a fun way to burst your luxury bubble for a few hours.
Sandals Emerald Bay, Bahamas
A golfer's dream
Golfers descend on Emerald Bay in droves to experience the best 18-hole course in the entire Caribbean. Designed by golfing demi-god Greg Norman, this picturesque par 72 course traverses a rugged turquoise-tinged coastline before finishing up in a peninsula with panoramic views. A team of pro instructors are on hand to hone your stroke, although you'll still struggle to focus amid all those amazing views.
Old-world British-inspired villas complement the golfing theme to a tee, some of which boast ocean-facing balconies or direct access to the beach. Eleven gastronomic options and a gigantic zero-entry pool should keep the non-golfers entertained for a while.
Sandals Royal Plantation, Jamaica
A boutique option
While many Sandal's properties have enough space to house an army of guests, Jamaica's Royal Plantation has just 74 room, making it a teeny weeny boutique in the all-inclusive resort chain world.
The smaller size results in a more intimate atmosphere, in which personalized service from the ever-present butlers is second to none. And despite the lack of crowds, the resort doesn't skimp on amenities; its swimming pools and whirlpool tubs are a top place to swim, while the private white sand beach has enough hammocks and day beds to snooze until sundown.  A full-service spa plus a plethora of exciting activities add to the appeal.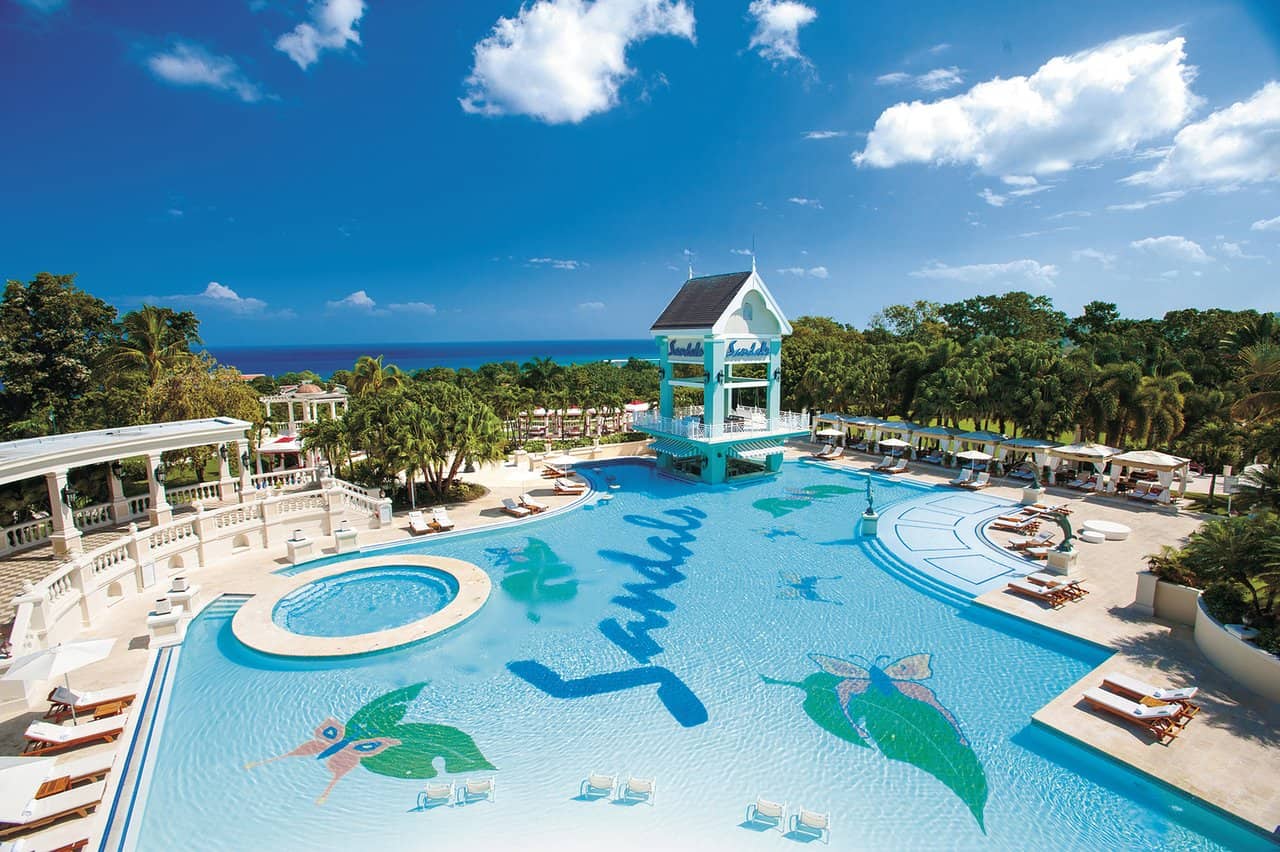 Sandals Ochi, Jamaica
An impressive selection of swimming pools
Sometimes all you want to do is hang out by the pool, either cooling off with a refreshing swim or stretching out on a sun-lounger. If that sounds like your dream vacay, then the Ochi is the ideal Sandals resort for you.
This expansive Jamaican complex is blessed with a bewildering array of pools. From intimate swim up bars to semi-private plunge pools and the bedazzling main pool with lavish fountains and statues, this swimsuit-clad affair is a haven for open-air relaxation, so be sure to pack plenty of SPF.
A well-appointed Red Lane Spa, an 18-hole golf course, and countless culinary options are on hand for those who don't fancy showing off their beach bod.
Found something you like? Then go ahead and book yourself your dream all-inclusive Caribbean holiday. You do know you deserve it, right?
Start Planning Your All-Inclusive Vacation Today!
Get a quote and start planning your All-Inclusive Vacation, Wedding or Honeymoon today.