Who wouldn't want to indulge themselves in a luxury Bahamas vacation?
Just picture yourself kicking back poolside in a lux resort, snorkeling crystal clear waters above colorful coral, or feeling the sand between your toes while ordering your second cocktail before midday.
Sounds like pure bliss, right?
But as idyllic as the famed destination may be, it's all too easy to let your budget spiral out of control in the Bahamas. Before you know it, you'll be taking out a second mortgage on your home just to pay off the bar bill.
And that's the magic of the all-inclusive resort: you pay everything up front to avoid any nasty surprises on check out. No overspend and no financial stress.
We've rounded down the top five all-inclusive resorts in the Bahamas so you can order that third a.m. cocktail completely guilt free.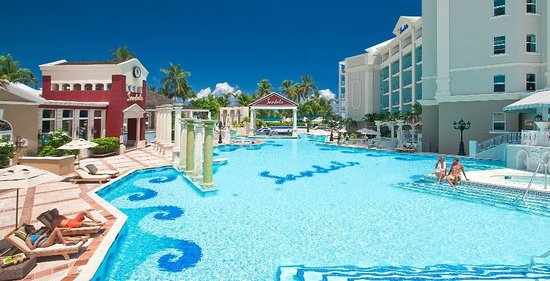 Sandals Royal Bahamian
Perhaps the plushest resort in all of New Providence, this expansive oceanfront property combines European sophistication with that infectiously laidback Caribbean vibe.
First rate amenities include an enormous colonnaded pool that stretches along the shore, gourmet gastronomy at 10 fine dining restaurants, and soothing treatments at the sumptuous Red Lane Spa. Guests can enjoy an array of exciting aquatic activities by day and relish in the revelry of live bands and traditional dance come nightfall.
For those after some serious serenity, the Sandals has a private island just a quick kayak ride away. This tiny tropical haven boasts a beach club with a seafood restaurant and a swim up bar, plus an array of funky hammocks and cabanas to ensure you can relax in style.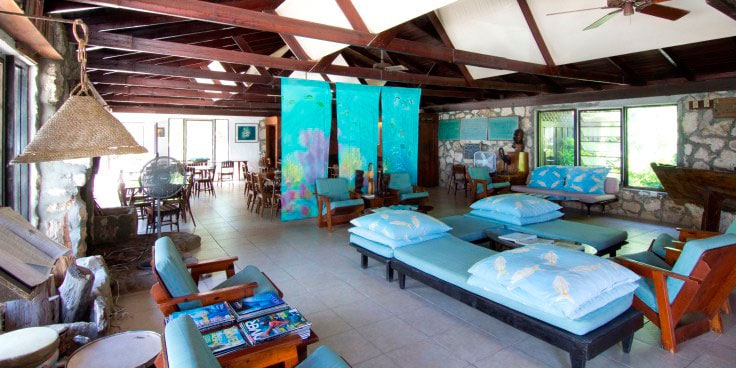 Small Hope Bay Lodge
One for the underwater aficionados, this resort is all about immersing oneself in the beauty that lies beneath the waves. Small Hope Bay Lodge is the country's oldest and largest all-inclusive SCUBA accommodation, making it the go-to Bahamas option for divers who come to relish in colorful coral reefs and abundant marine life.
But don't worry if SCUBA isn't your forte, because an array of exhilarating above water activities such as hiking, kayaking, and paddle boarding are included in the package.
Each of the boutique resort's 20 rustic cabins aren't as glamorous as other options on our list, but that only adds to its eco-focused appeal.
The place is notoriously sociable, so expect to mingle with an oddball ensemble of friendly outdoorsy types. Most return time and time again for the unbeatable SCUBA action and the unpretentious vibe of this beloved Bahamas resort.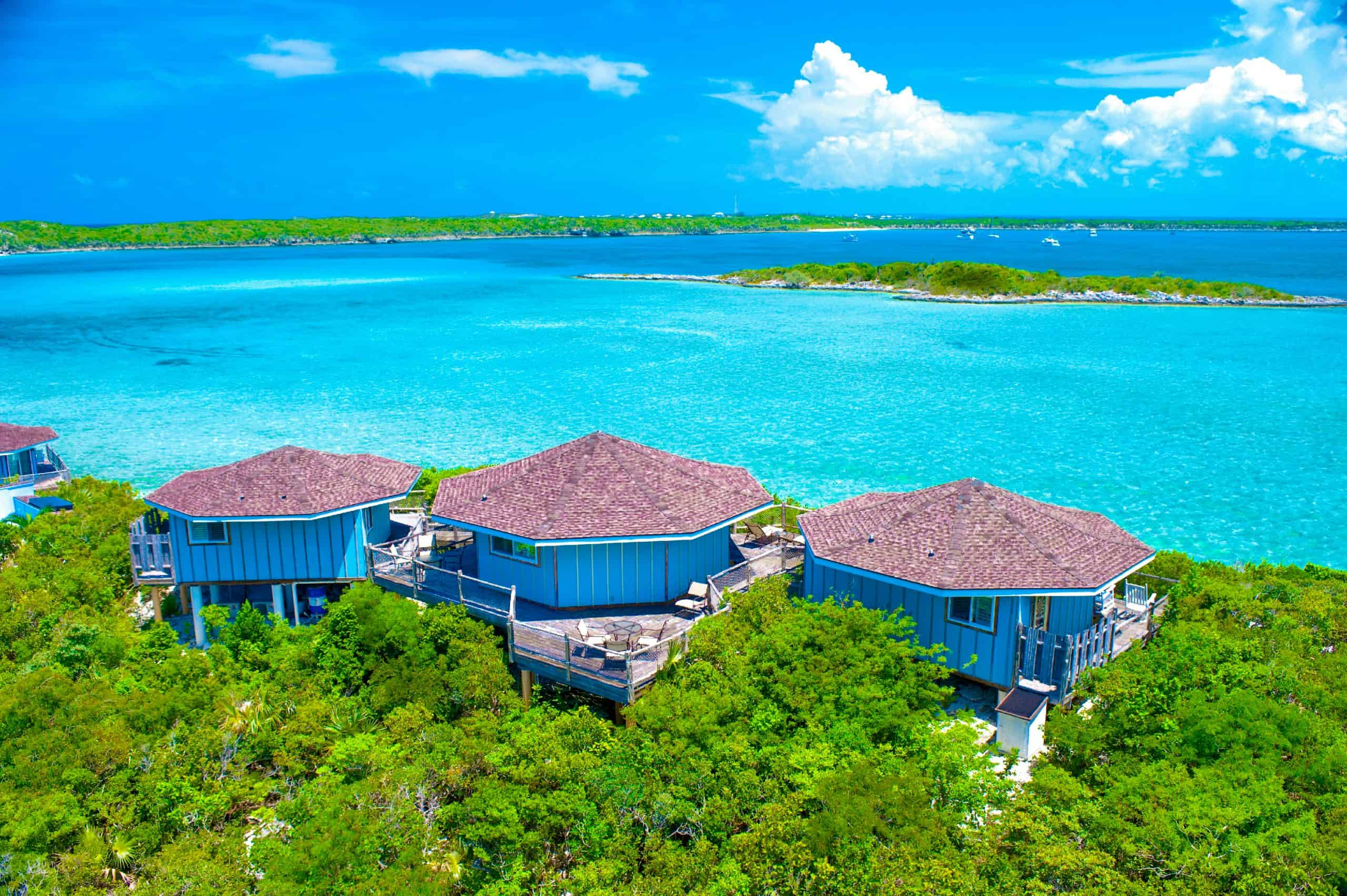 Fowl Cay Resort
You'll have to fork out a pretty penny to stay at Fowl Cay, but that's the price you pay for unbridled luxury in the Bahamas. Just six villas housing a maximum of 23 guests inhabit the lush 50 acre estate–the closest thing you'll get to a private island without a billionaire's paycheque.
Each of the oceanfront cottages features a charming colonial-era interior design, complete with high ceilings, polished timber furnishings, and a cool whitewashed color theme. Getting around on land is a breeze with a golf buggy or by sea on an outboard dinghy, both of which come part of the package.
A well-stocked pantry contains all the breakfast essentials, while the in-house chef is always eager to prepare a picnic lunch to accompany your daily adventures. Come dinner time, everyone makes their way to Hill House to feast on succulent seafood and devour endless cocktails in a fun-filled communal setting.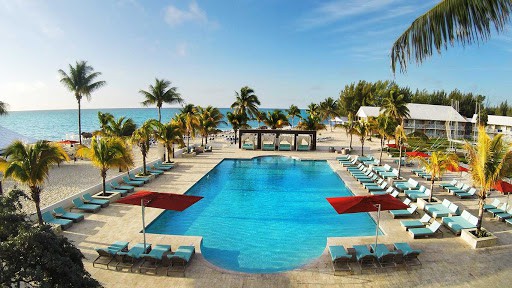 Viva Wyndham Fortuna Beach
For a cookie cutter all-inclusive resort that won't break the bank, it's hard to look past the Wyndham.
The expansive 26-acre complex contains 274 guest rooms, so it's not exactly boutique. But what the family-friendly resort does offer is first-rate amenities, a postcard perfect oceanfront setting, and three delectable restaurants that cater to every taste.
Swimming, kayaking, snorkeling, and sailing tempt guests to venture out to sea, while land-based activities abound. An onsite fitness center and tennis court are good for a workout, while the lux day spa is the place to relax and unwind.
Viva Wyndham excels at entertaining the kids to give the parents some respite. Child-friendly activities such as trapeze, water sports, theme parties, and nightly shows are guaranteed to keep the little ones entertained.
Affordable, fun, and unfussy, the Viva Wyndham is a superb Grand Bahama option for budget-conscious families.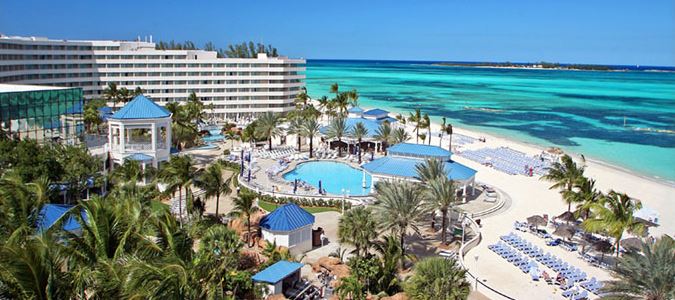 Meliá Nassau Beach
Just outside Nassau, this enormous all-inclusive option is perfect for the holidaymaker who can't get enough of those big resort vibes. Case in point: the main pool boasts a bustling swim up bar that's ideal for mingling at any time of day.
Nevertheless, there's ample opportunity to get away from it all. The smaller outlying pools and the pristine adjacent beach can be particularly peaceful.
But above all else, the Meliá manages to exceed expectations despite its sprawling size. All 694 rooms boast breezy oceanfront balconies: the perfect spot to enjoy a sundowner or two. Cutting edge contemporary design and lux amenities like a cushy pillow menu complete the package.
An all-inclusive Bahamas vacation is the best experience you'll get within a short flight of the U.S. And with no stress about blowing out your budget at the end of it all, you've really got no excuse not to relax and unwind.
So book yourself a package at one of these upscale resorts and watch your worries fade away like a Caribbean sunset at happy hour.
Start Planning Your All-Inclusive Vacation Today!
Get a quote and start planning your All-Inclusive Vacation, Wedding or Honeymoon today.