Sandals Negril Review
Sandals Negril is a stunning resort on Jamaica's "Seven Miles of 7th Heaven."   Walk right out to the world famous 7 mile beach.  There are 7 gourmet restaurants,  all included in your stay.  Looking for a cool refreshing drink?  Try one of the 5 bars at Sandals Negril.
Sandals Negril

This Sandals Resort is closer to the water's edge than anywhere else in Negril, life can truly be what you imagine in the relaxed chic, and free-spirited Sandals Negril.
Literally a ten minute free Sandals shuttle ride from the airport and you can be sipping all inclusive cocktails for lunch.  The hotel has an ambience that melds relaxed tropical luxury with barefoot elegance in Jamaica, it closely hugs its coveted seaside location on famed Seven Mile Beach, creating Negril's ultimate beachfront all-inclusive resort. Here in this laid-back hideaway there are no schedules to follow and no clocks to obey.
Also very close to Sandals Royal Caribbean Resort which allows you to enjoy both resorts and hop between both experiences.
Just two of the many room categories available at Sandals Negril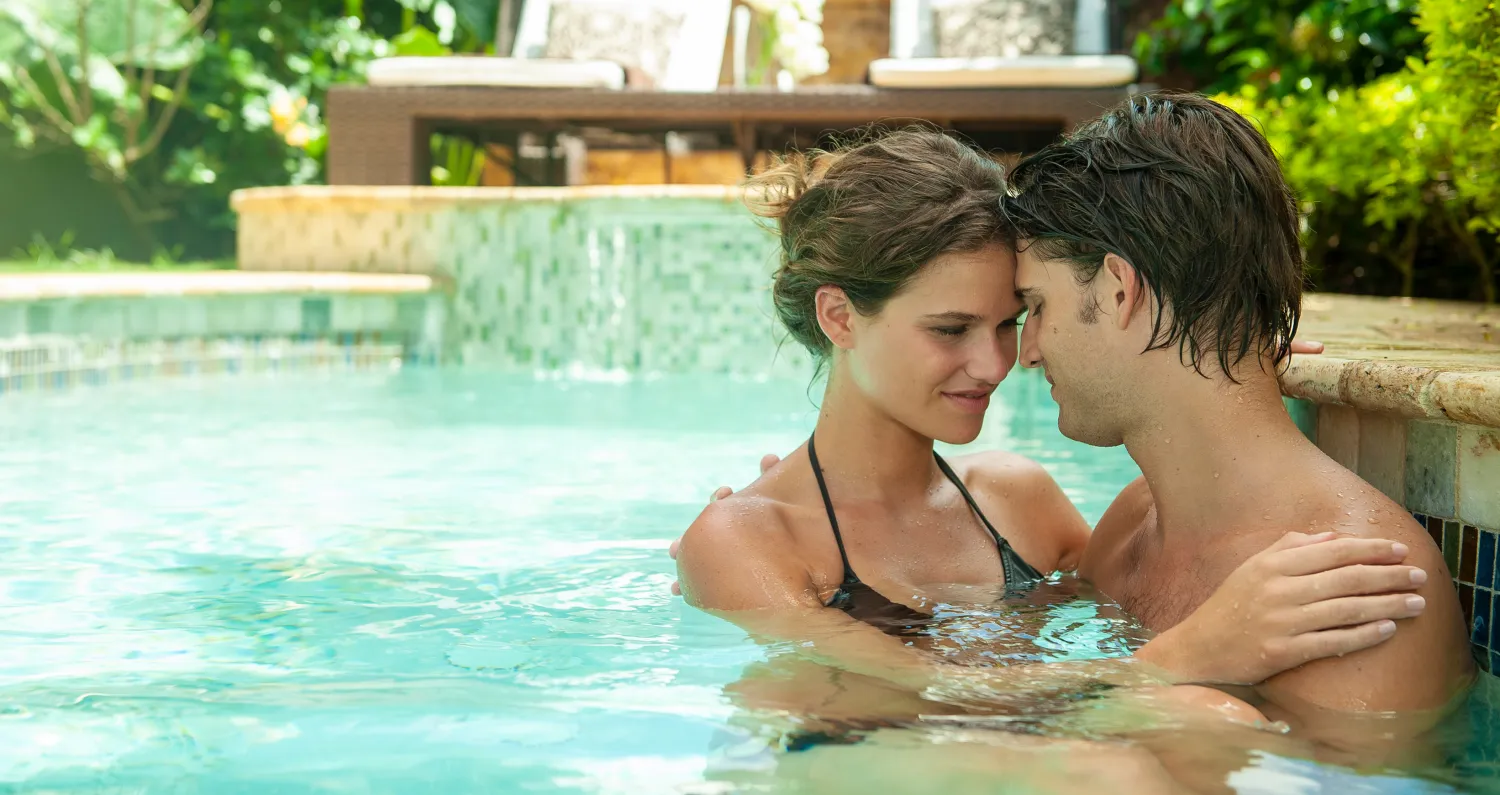 Millionaire Honeymoon One Bedroom Butler Suite with Private Pool Sanctuary
Resort: Sandals NegrilCategory Code: RJRoom Views: Pool, Tropical Garden
These extravagant Love Nest Butler Suites are located on the ground floor and feature a four-poster, king-size bed, flat screen TV, and a spa-style bathroom with double vanities, walk-in shower and whirlpool tub. A separate spacious living room boasts elegant furnishings, a second TV and a fully stocked bar. A charming patio opens up to a lush garden, a private plunge pool and miniature waterfall, as well as an outdoor shower with a wall to ensure privacy. Guests enjoy Butler Elite and 24-hour in-room dining.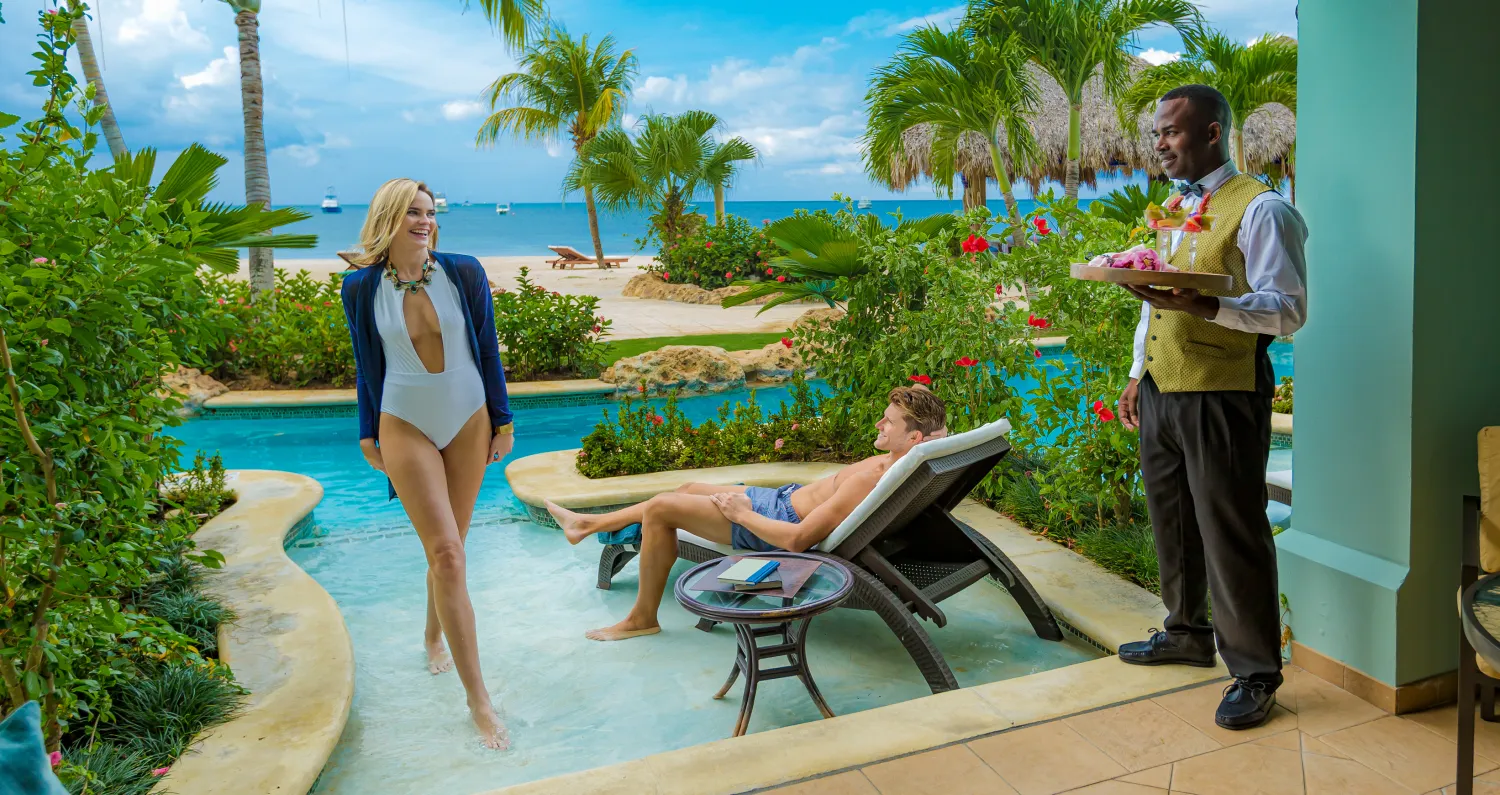 Swim up Crystal Lagoon Beachfront One Bedroom Butler Suite
Resort: Sandals NegrilCategory Code: 1RRoom Views: Partial Oceanview, Pool, Tropical Garden
These innovative Love Nest Butler Suites feature a sumptuously-appointed bedroom with elegant mahogany furnishings, a four-poster, king-size bed, flat screen TV and ivory tile floors. The lavish bathroom features a walk-in shower and separate whirlpool bath. An expansive living room area boasts a stylish sofa, second smart TV and a fully stocked wet bar. The suite's patio offers direct access to the beautiful crystal lagoon pool and breathtaking Caribbean Sea beyond. Guests enjoy Butler Elite and 24-hour in-room dining.
Start Planning Your All-Inclusive Vacation Today!
Get a quote and start planning your All-Inclusive Vacation, Wedding or Honeymoon today.