Sandals Grenada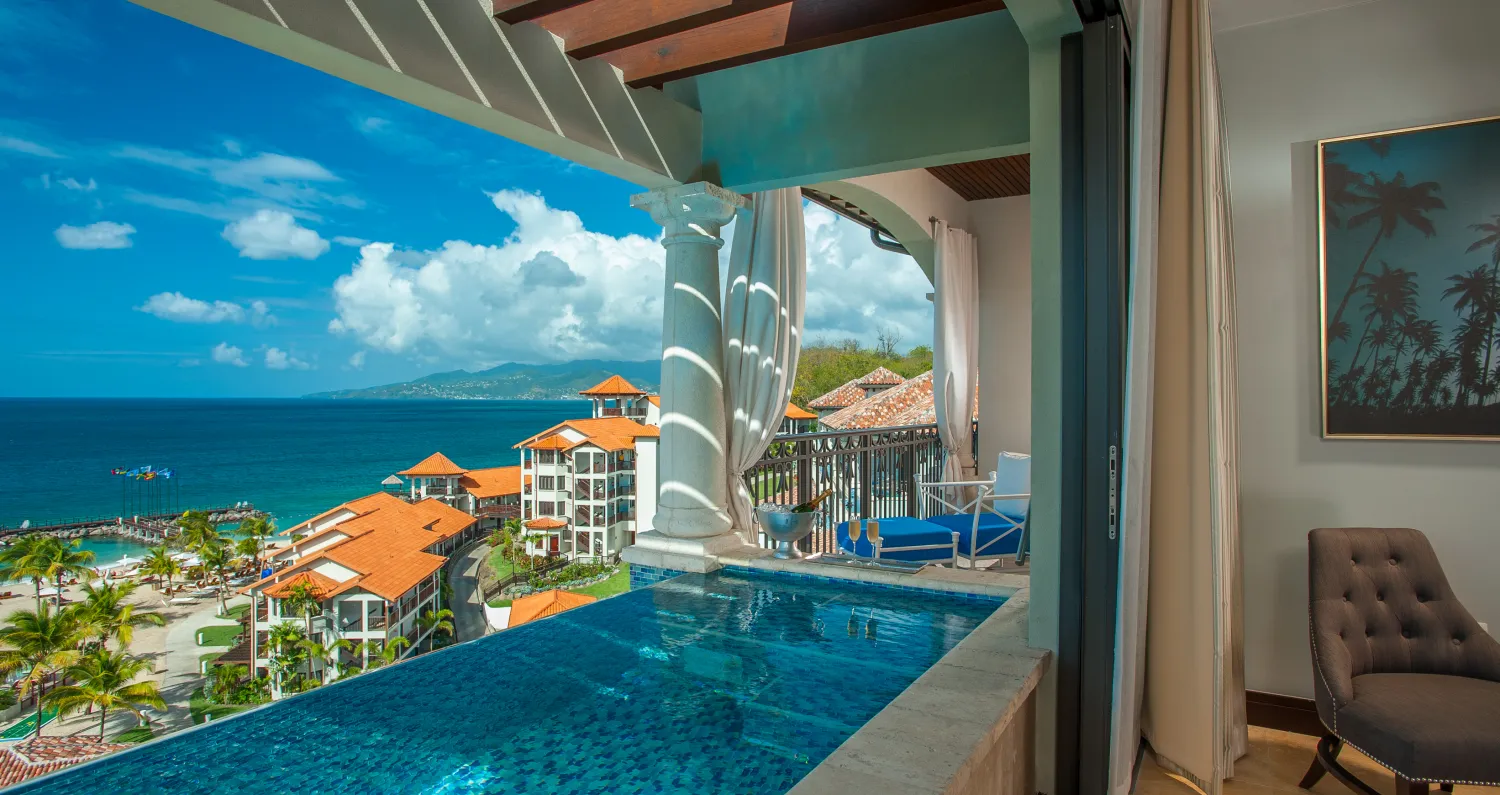 Known as the Sandals of tomorrow, this all-inclusive resort in Grenada defies every convention of traditional design. It's an exotic hideaway representing island luxury at its best with breathtaking innovations like pools suspended in the sky, and a living room in a beachfront pool. Expect the unexpected with an all-inclusive vacation on the beautiful Pink Gin Beach, while trying world-class scuba diving and enjoying a choice of ten 5-Star Global Gourmet™ dining options. Take in the energy of the rhythmic nightly celebrations at one of six hotel bars including everything from sophisticated open-air beachside bars to chic clubs all with premium liquors all included all of the time.
This ultimate resort of the Sandals & Beaches® collection includes 257 rooms and suites never seen before, located in the South Eastern Caribbean. The island is volcanic with some black sand beaches. There are rainforests, a great array of sightseeing and tour options. A vibrant nightlife exists on this island.

Personalized butler service available in 69 Suites which will include Swim Up Pool Suites, Rondovals and Skypool Suites.

Sandals Grenada Resort & Spa epitomizes luxury with 4 villages: The Pink Gin Village, The South Seas Village, The Italian Village and The Lover's Hideaway Village.

Romantic Tranquility Soaking TubsTM for two in all suites in the Italian Village and in the Lover's Hideaway Village.

5 Star Global GourmetTM Dining from a choice of 12 dining options including a world class steakhouse – Butch's Chophouse and Room Service for Butler serviced and Club Sandals accommodation.

Only a few minutes from the Maurice Bishop International Airport.
Sandals Grenada

What was already picture perfect has been transformed into "The Most Alluring Destination in the Caribbean". Sandals Grenada Resort & Spa is an exotic, unspoiled hideaway that offers a romantic, authentic Caribbean experience while providing the Luxury Included® amenities and exceptional service that have come to be associated with the Sandals Resorts experience. Known as the "Spice Isle," Grenada is a mesmerizing island with some of the most incredible natural wonders in the Caribbean from stunning beaches and waterfalls to lush rainforests and pristine mountain lakes.
Just two of the many room categories available at Sandals Grenada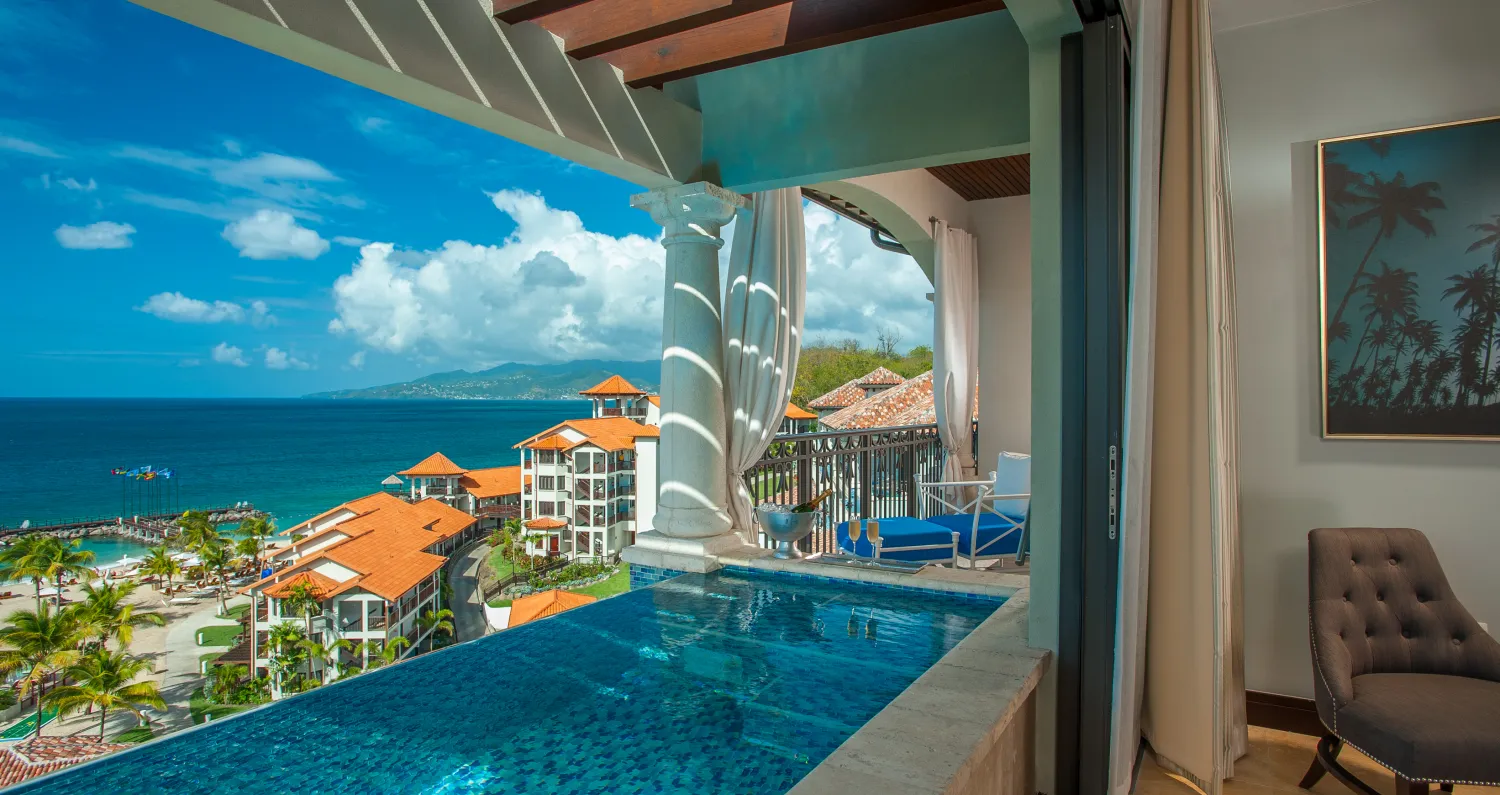 Italian Oceanview PH. 1 Br. SkyPool Butler Suite w/Balcony Tranquility Soaking Tub
Resort: Sandals Grenada
Category Code: PSKY
Room Views: Oceanview, Pool
Perched atop the Italian Village, these magnificent oversized Love Nest Suites are the pinnacle of luxury. The exceedingly romantic bedroom boasts a king-size bed with direct access to a private cantilevered plunge pool with infinity edge where couples can admire the stunning ocean while floating in the sky. Equally impressive is the suite's living room complete with an indoor dining table, writing desk with plush sofa, a smart television, a butler pantry, and fully-stocked wet bar featuring premium liquors. The stylish living area leads to an expansive balcony and features an opulent Tranquility Soaking Tub for two -ideal to relax while soaking in the Caribbean's surrounding tropical beauty and splendor. Exquisite details including Carrera marble vanities with backlit mirrors, a Kohler claw footed tub, separate frosted-glass shower and flooring made of Turkish ivory patika travertine natural stone with accents of pebbles adorn the luxurious bathroom. Butler Elite and 24-hour in-room dining included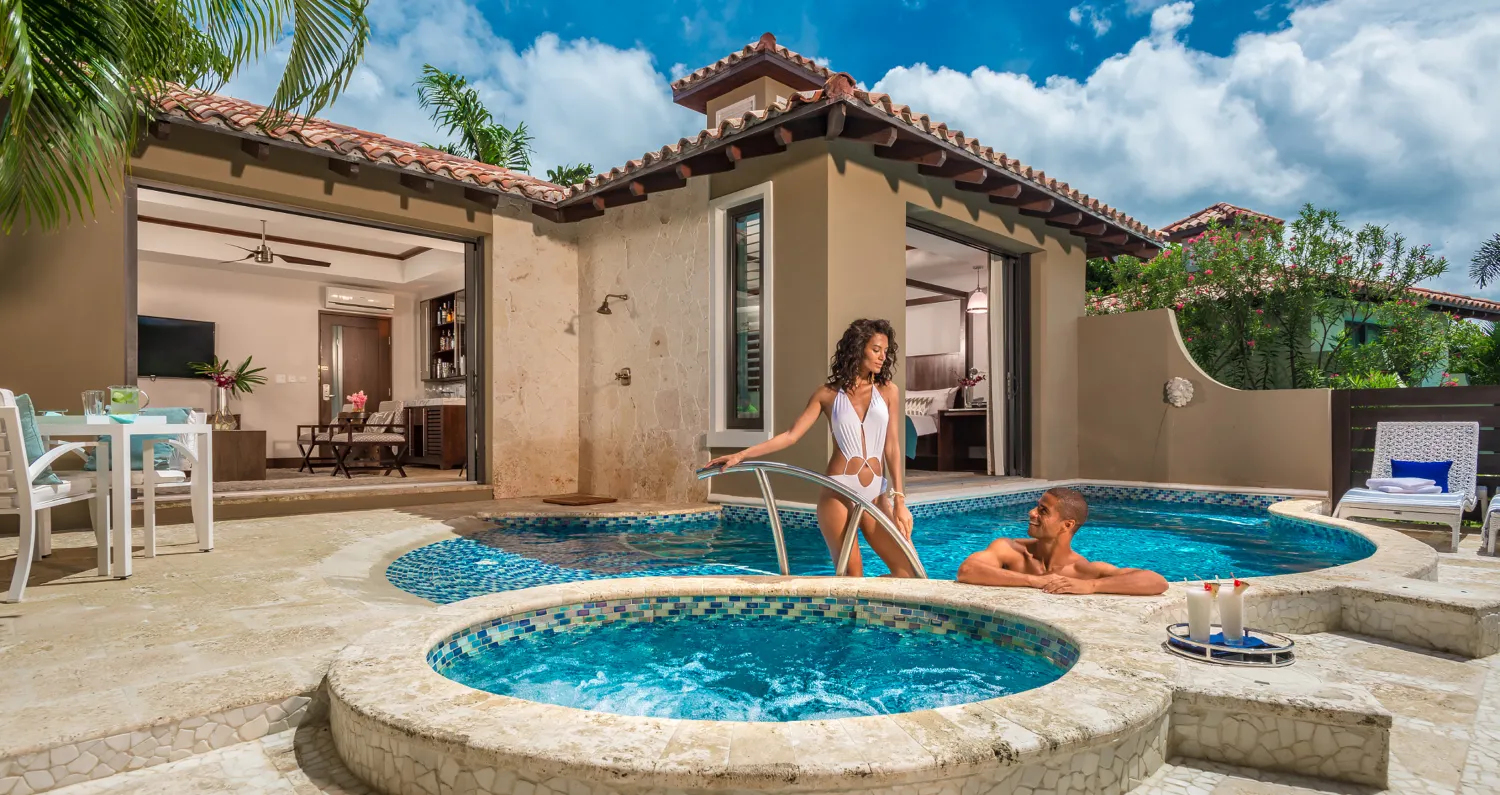 South Seas Honeymoon One Bedroom Butler Villa with Private Pool Sanctuary
Resort: Sandals Grenada
Category Code: 1BP
Room Views: Pool, Tropical Garden
Boasting the utmost in privacy, these Tahitian-style Love Nest Butler Suites are perfect romantic havens featuring the exceptional service of a personal butler. The opulent bedroom features a king-size bed and smart television, as well as, a separate living area complete with an elegant sofa, dining area, fully-stocked wet bar, a second smart television, and writing desk. Both the luxurious bedroom and elegant living room reveal direct access to a private outdoor sundeck complete with plunge pool and whirlpool where you can enjoy fun-filled sunny days and romantic nights. Exquisite details including a spacious spa-style bathroom with a freestanding Tranquility Soaking Tub for two, Carrera marble vanities with backlit mirrors and flooring made of Turkish ivory patika travertine natural stone and porcelain planks made in Italy, add to the allure of this glamorous retreat. Butler Elite and 24-hour in-room dining included
Start Planning Your All-Inclusive Vacation Today!
Get a quote and start planning your All-Inclusive Vacation, Wedding or Honeymoon today.