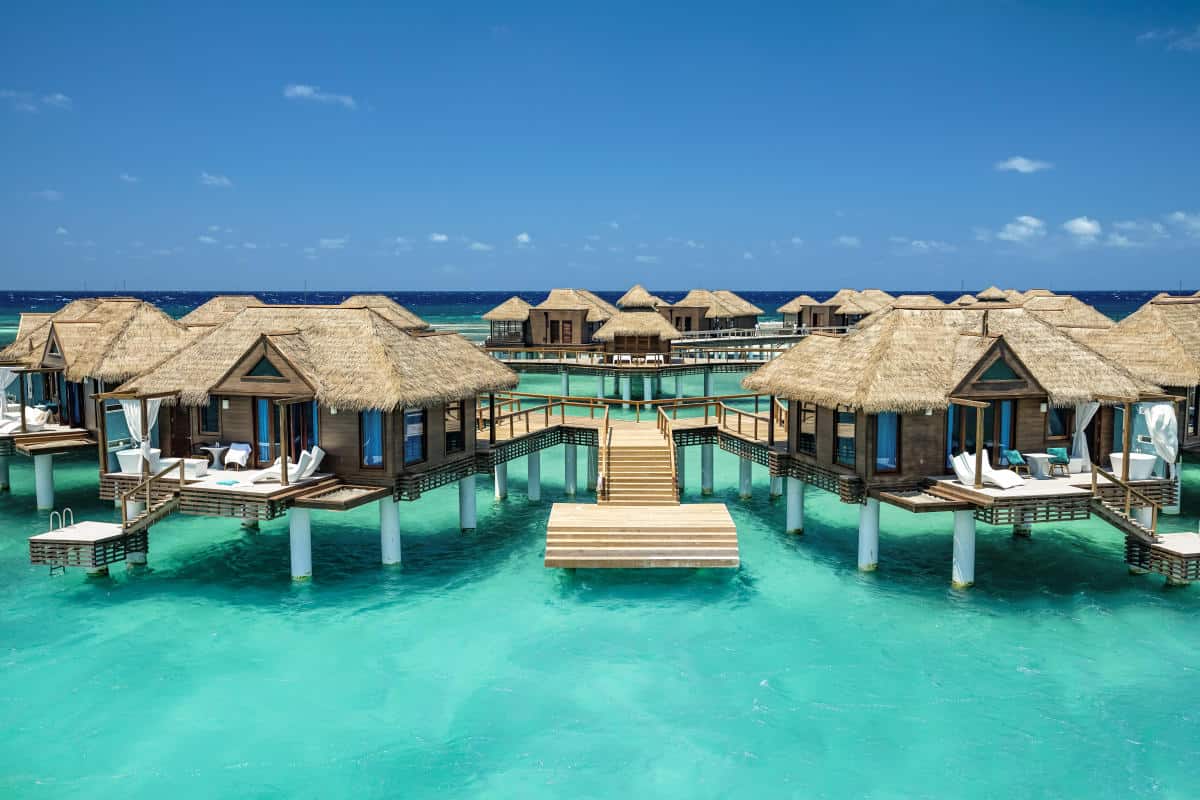 All-Inclusive Resorts are all the rage and for good reason.  One price gets you food, drinks, entertainment and more.  But how do you know if your All-Inclusive Adult resort is really going to be just steps away from the beach?  We have put together the Top 8 Adult Only All-Inclusive Resorts that are just steps away from a tropical beach.
Our top ten All-Inclusive Adult Only resorts come from our favorite spots in the Caribbean and Mexico.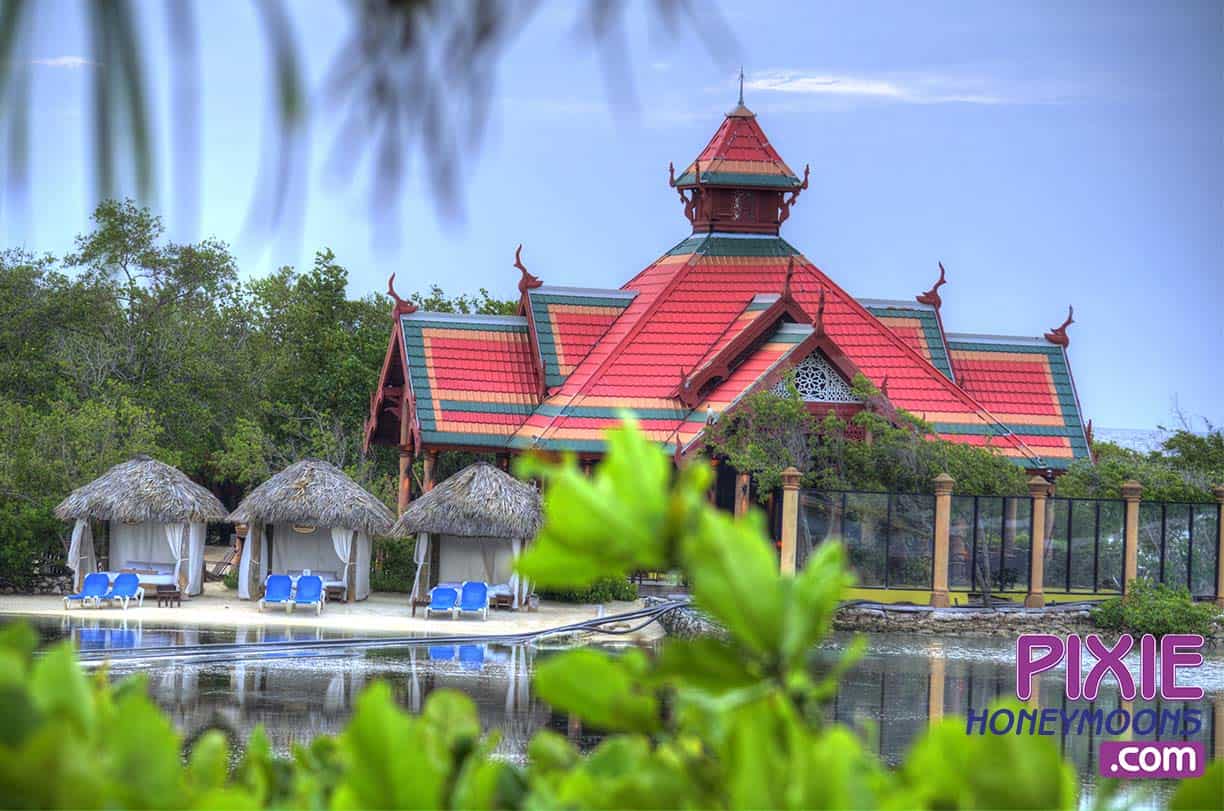 Sandals Royal Caribbean – Jamaica
Sandals Royal Caribbean resort is just a ten minute drive from Jamaica's Montego Bay airport, and with Sandals transfers are included to and from the resort.  With the resort being so close to Montego Bay you can dip your toes in the robin egg blue crystal clear water at Royal Caribbean just movements after you arrive in Jamaica.
What is ideal about Sandals Royal Caribbean Resort is that the rooms, suites and villas are literal on the beach.  We counted the steps from our room and within 10 steps we were in our beach lounge chair.  Looking for Over-The Water Bungalows?  Sandals Resorts has them here too.  These over the water bungalows and over the water villas are stunning and talk about being on the beach, you are just one hop away from your living room to being in the Caribbean, literally!
What I love about this resort:  Instead of flying 17 hours to Bora Bora, you can hop on a flight from Atlanta and be at Sandals Royal Caribbean in a few hours and enjoy an over the water bungalow in Jamaica.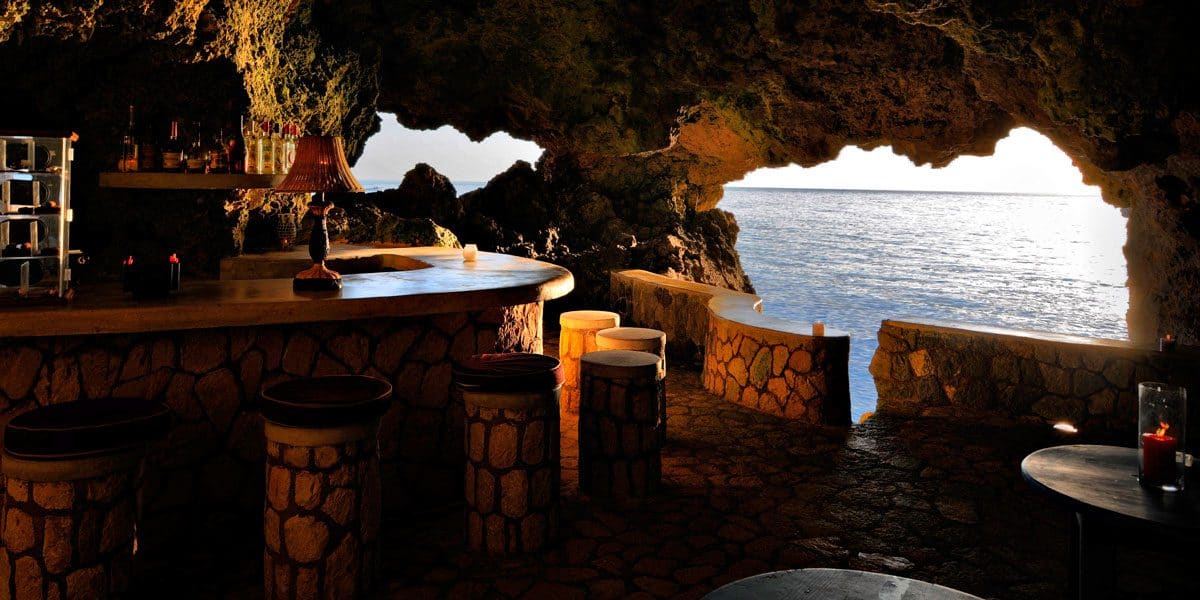 The Caves Hotel – Jamaica
If you are looking for a romantic boutique hotel in Jamaica The Caves Hotel does not disappoint.  The Caves Adult only hotel is perched atop the limestone cliffs and has stunning scenery and lush tropical gardens.  With only 12 cottages and suites, booking a room at The Caves Resort needs to be done well in advance. 
If you are looking for some extra adventure you can even learn to cliff dive here, offering several different heights up to 35 ft for those that want the ultimate thrill.  But the Caves Hotel is about relaxation, beautiful sunsets and seclusion.  If you are looking to get your white sand beach fix, a short taxi drive away is the famous 7-mile beach.
What I love about this resort:  The Caves Hotel is unlike anything you are going to find in the Caribbean and the Cave bar is romantic and very unique.  This resort you will not forget.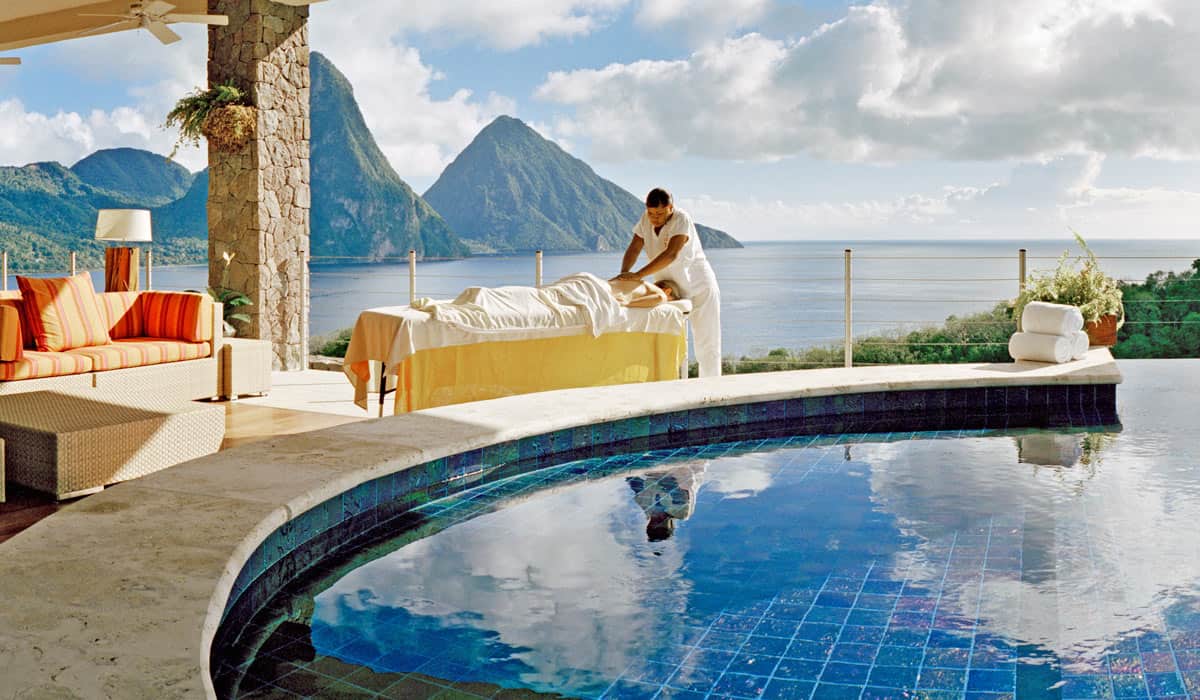 Jade Mountain Resort – St. Lucia
You have probably seen the images of St. Lucia's iconic Piton views in your Pinterest boards.  Jade Mountain Resort has just 29 spacious suites.  All of these sanctuaries include your own infinity edge pool, except for the entry level room categories.  Stunning Ocean views greet you from all 29 suites. 
What I love about this resort:  St Lucia is the perfect island for a honeymoon, or just a romantic all inclusive get away.  The small number of suites makes this truly an exotic escape and the Piton view will make all of your Instagram friends jealous.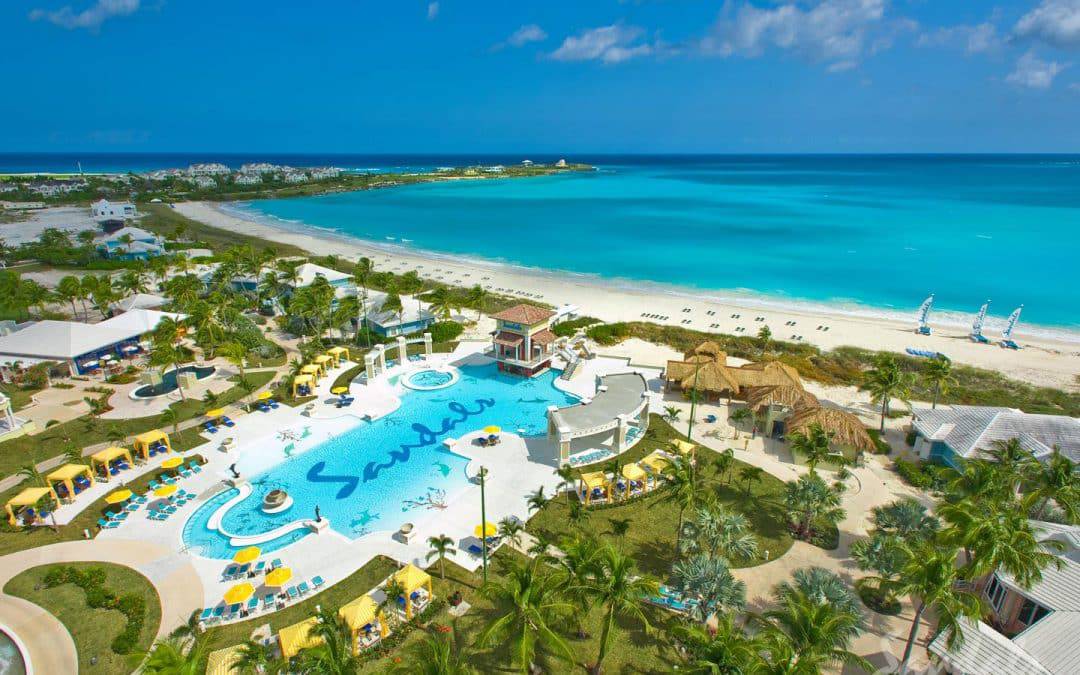 Sandals Emerald Bay – Exuma
If you think you have been to the Bahamas because you went on a cruise to Nassau or Freeport, you have not seen the other side of what the Bahamas has to offer.  There are over 700 islands with 300 of them making up the Exumas.
For an adult only all inclusive escape back to the unspoiled Bahama's Exuma's Sandals Emerald Bay Resort offers unspoiled luxury, five star service and the bluest water you have ever seen.  If you are looking to golf, and being all-inclusive, the greens fees are included, the PGA course with 6 signature holes right on the cliffs with the endless water views, make this golf course the Pebble Beach of the Caribbean.  If you want night clubs, casinos, and a high end shopping, Exuma is not the island for you.  But if you are looking for an all-inclusive luxury resort to relax, golf, enjoy the spa, beach pool, read a book and escape the stress of the day to day grind, Sandals Emerald Bay is your spot. 
What I love about this resort:  In less than 2 hours you can go from the hectic traffic of a major city like Atlanta to seeing maybe 2 cars on the road.  Exuma is very close for a quick getaway but feels like you have stepped back in time to the undiscovered beauty of the Caribbean.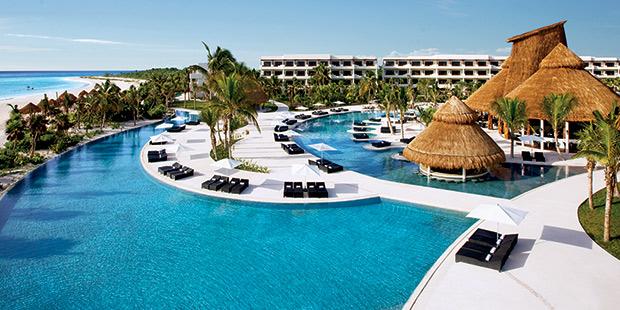 Secrets Moroma – Cancun
Secrets Maroma Beach Riviera Cancun is located on the secluded Maroma Beach. This all-inclusive adults only resort has beautiful ocean views and the white sand beach just steps away.  The pool area is beautifully done with lots of areas to relax and an expansive swim up bar.  Getting a lounge chair under a palm tree on the wide white sand beach is a favorite afternoon pass time. 
Secrets Maroma Beach TIP:  For rooms closer to the beach please consult a travel agent so they can make sure you are booking the correct room category at Secrets.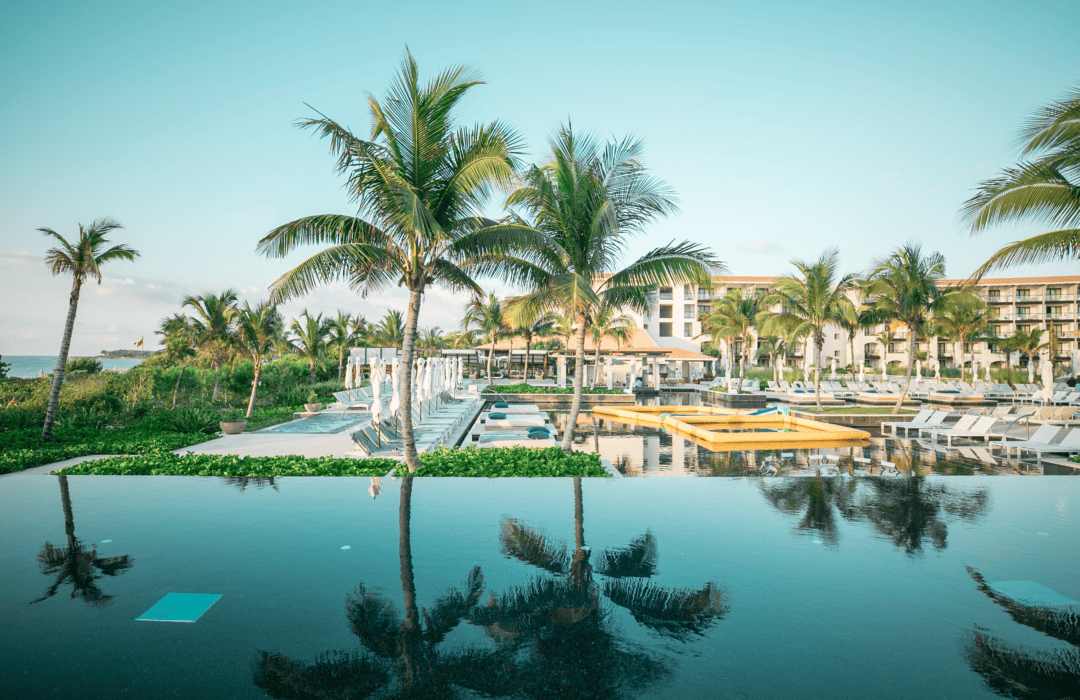 Unico Riviera Maya – Akumai Mexico
Unico Hotel Riviera Maya sits on an expansive white sand beach with a con-caved half moon shaped resort offering a large selection of rooms with ocean views.  This resort is set back from the beach with a large relaxing pool in the center of the property. 
This Adult only all-inclusive resort offers affordable room options all the way up to suites. 
What I love about this resort:  What's unique about Unico is that All-inclusive rates include select spa and beauty salon treatments.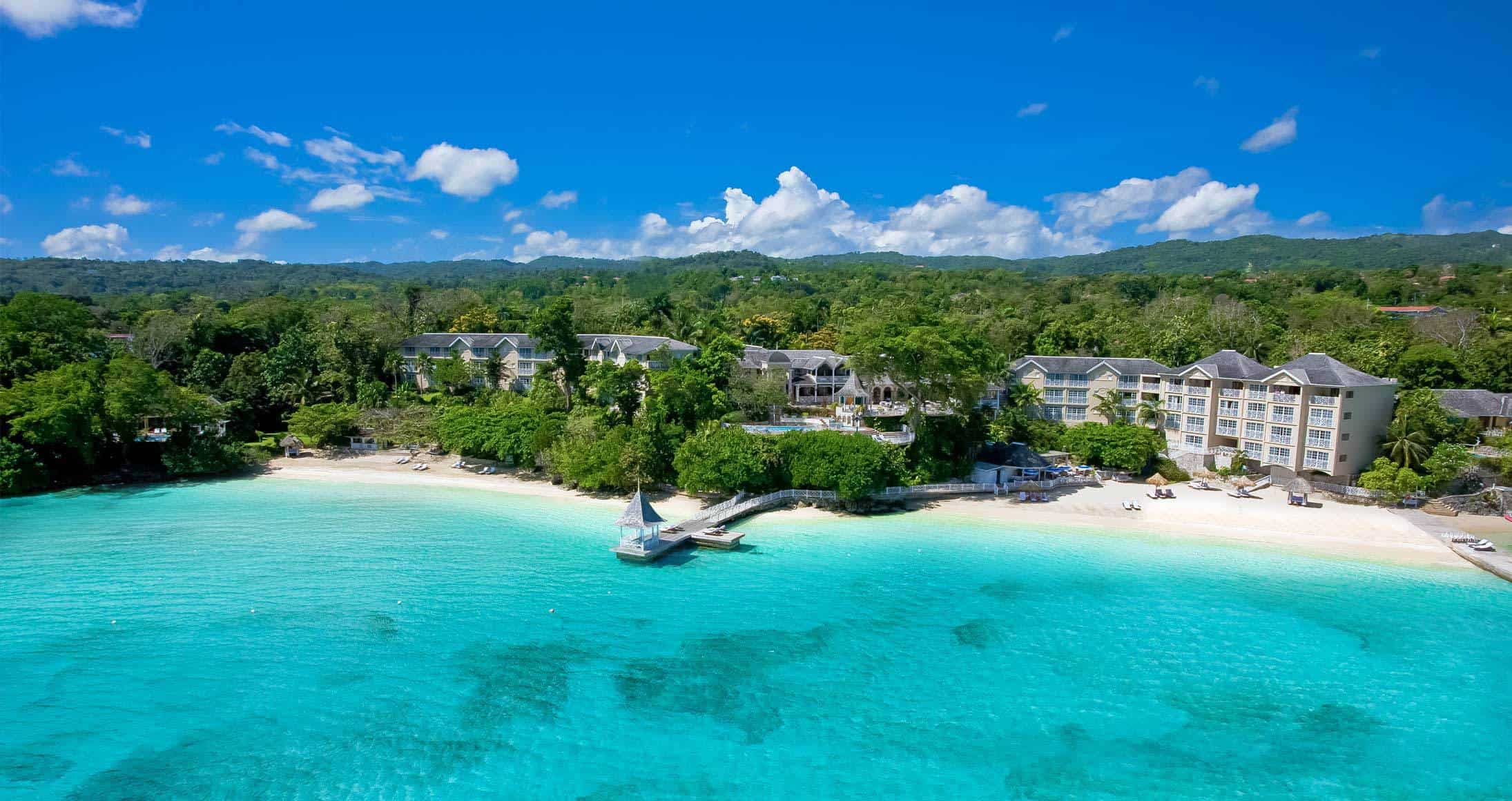 Sandals Royal Plantation – Jamaica
I know a great deal of our top 10 All Inclusive Adult Only resorts are Sandals Resorts and for good reason.  Sandals has developed or purchased resorts back in the 1970's and 80's when resorts in the Caribbean could be built directly on the beach.  Now a days with new building codes resorts can not be placed with this type of beach access.  With Sandals resorts they keep the buildings structure but full gut the building down to the bare walls and then update the resorts so they are modern and luxurious while keeping the amazing beach front just steps away from your room. 
This brings us to a Sandals Resort in Jamaica's popular Ocho Riso area.  Sandals Royal Plantation.  With just 74 rooms and every room have white glove butler service, Sandals Royal Plantation sits atop Jamaica's limestone cliffs with romantic steps winding down to two private beach front coves.  Your butler will stock a cool full of your favorite drinks, make your dining reservations, and even have a flower pedal filled Jacuzzi bath drawn for you ready and waiting for after you return to your room.
This quite luxury resort also has the advantage of being located next to Sandals Ochi.  When you stay at Sandals Royal Plantation you can take a free shuttle to Sandals Ochi next door and join in the night life at the Sandals Ochi Beach Club.  So you get the best of both worlds with night life right next door, and the private full butler service side at Sandals Royal Plantation.
What I love about this resort:  Sandals Royal Plantation offers you that boutique hotel feel while also having access to the night life and party lifestyle next door at Sandals Ochi, just a 5 minute shuttle ride away on the Free Hop.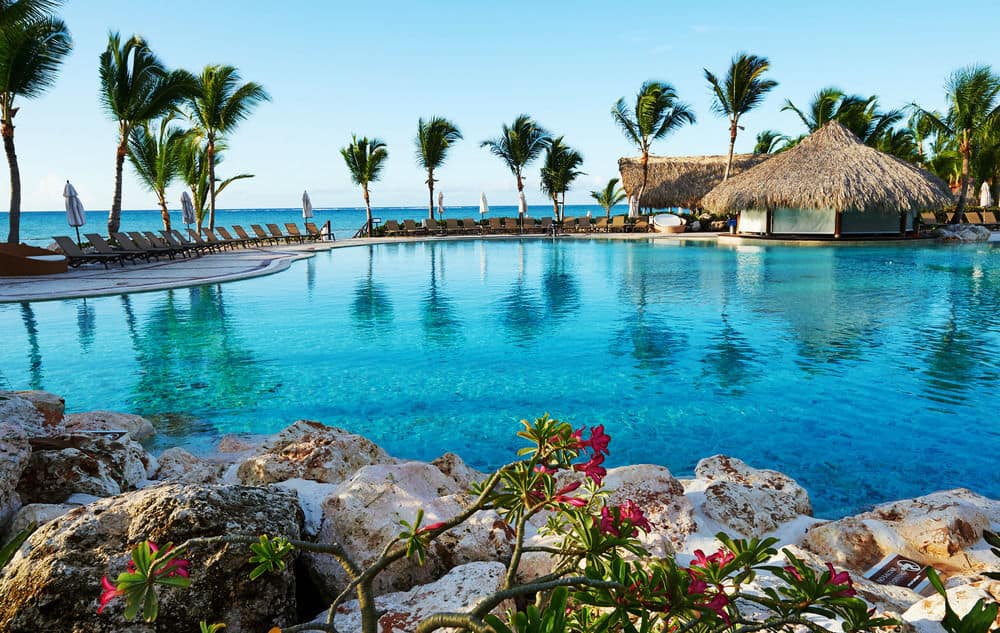 Sanctuary Cap Cana – Dominican Republic
This All Inclusive Adult only resort is located in Cap Cana, a private retreat inside Punta Cana, Dominican Republic.  With Cap Cana being just 15 minutes from the Punta Cana airport, Sanctuary Cap Cana makes for a great quick get-away weekend or extended weekend all-inclusive.  The Spanish Castle like design with coral facing rock walls and tall palm tree lined tropical paths to the beach, make this an all inclusive favorite. 
What I love about this resort:  There is no long mountain road to get to this resort.  Just 15 minutes away from the airport, you can have a drink in your hand and be enjoying the sun and beach that much sooner.
Start Planning Your All-Inclusive Vacation Today!
Get a quote and start planning your All-Inclusive Vacation, Wedding or Honeymoon today.