Sandals | Royal Plantation Review

If you are looking for a boutique, quite, romantic Sandals all inclusive resort with butler service this is the perfect resort for you.  It also offers the music, nightlife and swim up bar just next door at Sandals Ochi Beach Resort.  You can literally wade over to Sandals Ochi next door, or take the Sandals shuttle which is free.
We would spend time at Sandals Ochi at the swim up bar and take "The Hop" free shuttle to the mountain side part of the Ochi resort for some amazing Jerk Shack pork and Chicken for lunch.  Then later in the day we would head back to Sandals Royal Plantation for a quite relaxing evening.  If you still want night life, just head to Sandals Ochi for the Beach Party.
Sandals Royal Plantation Extra Luxury:
Looking for the ultimate in Caribbean all inclusive luxury?  Sandals Royal Plantation has a 3-bedroom villa (Villa Plantana) tucked away on the resort property.  You get to enjoy the entire resort AND your private villa, private pool, own beach access, and your own butler and chef.
Sandals Royal Plantation At-A-Glance
Sandals only All-Butler, All-Oceanview Resort
Beach butler service on 2 private cove beaches
3000 sq. ft. private 3-bedroom villa
Afternoon tea service
Private Beach
Stay at One, Play at Two exchange privileges

Unlimited fine dining at 5 restaurants
Unlimited Mondavi® wines
Unlimited premium brand drinks
Two full service bars and C-Bar, Jamaica's
only Caviar + Champagne bar
Unlimited land and water sports

Unlimited scuba diving
2 pools and 1 whirpool
Golf at Sandals Golf & Country Club is included
Red Lane® Spa (services extra)
Free non-stop round trip airport transfers
Free Wi-Fi in all rooms and public areas
Here's what's new at Sandals Royal Plantation All-Inclusive Resort:
The Royal Grill has been completely redone and looks amazing
New Blue Shadows Gazebo for beach view cockrtails
Over-the-water hammocks & swings have been added along with a swing bed.  These are so relaxing.
Sandals Royal Plantation Resort Review

Why I love Sandals Royal Plantation
This Sandals resort is located in Ocho Rios which is that part of Jamaica that has all of your fun outdoor activities like swimming with dolphins, climbing Dunn's river falls and hiking or zip lining in the tropical forest.  But even being in the heart of all that Ocho Rios has to offer, Sandals Royal Plantation is a boutique resort with just 74 suites on the 10 acre property.  All the suites have ocean views and you are situated on a cliff over looking the cove beaches below and amazing emerald green and blue Caribbean waters.  We stayed at Sandals Royal Plantation when it was sold out.  The resort has so many dining options and hidden nooks on the two beaches that we never saw more than three of four couples the entire stay.
Sandals Royal Plantation also has a private 3 bedroom villa that is tucked away in a lush garden on the secluded east beach.  We toured this amazing villa that was also on the season finally of ABC's the Bachelor.  This Sandals villa also comes with butler service and also a chef.  It has a private pool and beach access.  There is a hidden path just steps away from Sandals Royal Plantation where you can dine, and relax also.  If you are interested in the Villa I have loads of photos I can share with you.  It's an amazing place for a honeymoon, wedding, or gathering with friends.
Another advantage to Sandals Royal Plantation is that it has full exchange privileges with Sandals Ochi Beach Resort which is next door.  Guests staying at Sandals Ochi Beach Resort do NOT have exchange privileges to Sandals Royal Plantation.  We waded over to Sandals Ochi next door several times and also took the free shuttle.  Sandals Ochi Beach Resort is the Sandals resort you probably have seen in TV commercials and brochures.  It has an amazing swim up bar, and large beach party area for daytime activities and nighttime events, and loads of restaurants. With Sandals Ochi next door you can hang out at the swim up bar during the day if you like more activities, and head back to your resort when you want to relax.  You have the best of both worlds.
Sandals Royal Plantation Tip:
Get to know your butlers.  Having butlers gets a little getting use to, so be sure to bring your room phone with you to the beach, to Sandals Ochi, etc.  If you left your book in your book and you are on the beach at Royal Plantation just give them a call.  If you would like your cooler filled with beer by your beach chairs, or dinner reservations, etc. your butler can take care of everything for you.
Just two of the many room categories available at Sandals Royal Plantation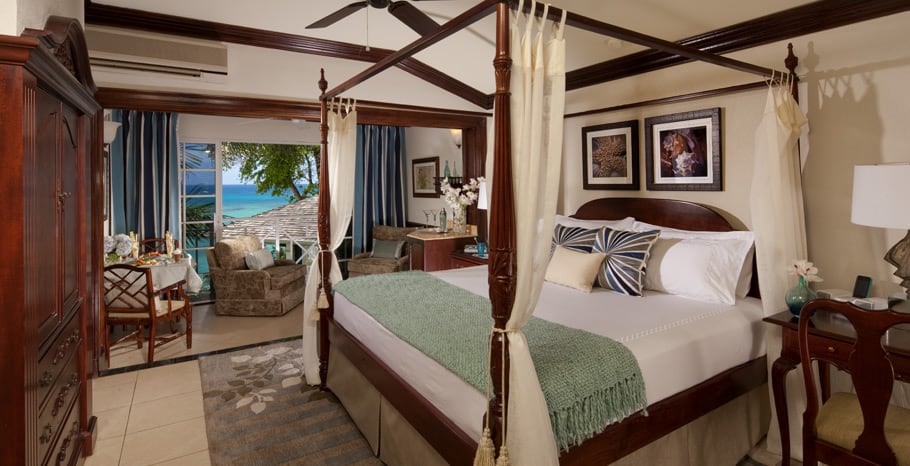 Orchid Oceanfront Butler Suite – RO
Your celebrated piece of paradise, situated in either the East or West wings on levels 1, 2 or 3, is framed by the broad, ornamental French balcony that opens to stunning views of the aquamarine Caribbean unfolding to the far horizon. Colonial design elements and modern conveniences merge to create an inspired, Island contemporary suite. An open-partition plan delineates elegant sleeping quarters from the charming living and intimate dining space, where a wall of glass frames palm trees, ocean and sky. Inside, enjoy an ultra-inviting signature king size, mahogany bed; primp in the marble-appointed bath; lounge on exquisitely upholstered easy chairs; and drink in the captivating vistas with morning coffee or evening cocktails. A discreet and attentive personal butler, whose impeccable attention to detail leaves nothing to chance, will cater to your needs for the duration of your memorable stay.
Room View: Ocean view of our West Beach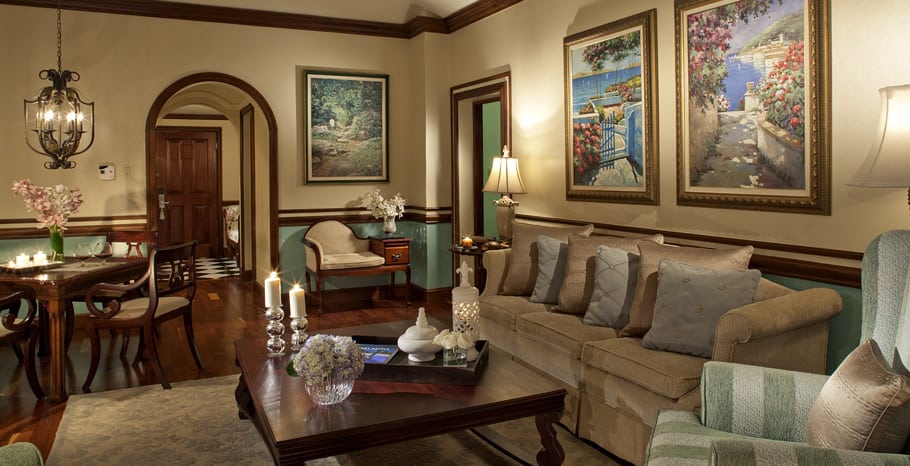 Governor General Oceanfront One Bedroom Butler Suite – GR
Located on the top floor of the resort's Beachfront West Wing, this exceptional Love Nest Suite grants breathtaking views of the serene sea. As stately as its title, this exceptional escape is the essence of Caribbean sophistication. Enter into an elegant foyer that leads to a spacious living and dining area appointed with a cozy sofa, custom crafted mahogany furnishings, and fully stocked bar. The grand master bedroom features a four-poster, king-size bed with soft Italian linens and plush pillows for the ultimate sleep experience. The en-suite bath is complete with a double vanity, walk-in shower and Roman tub. Outside, the suites' two walkout balconies invite you to relax and take in the vistas on a chaise lounge and bistro set. Butler Elite and 24-hour room service are included.
Room View: Ocean
Start Planning Your All-Inclusive Vacation Today!
Get a quote and start planning your All-Inclusive Vacation, Wedding or Honeymoon today.