Dreaming of an overwater bungalow vacay but can't bear the thought of flying 18 hours away?
Well you needn't fantasize any longer, fellow sun-worshipper, because there's now a multitude of opulent overwater lodgings this side of the Pacific–and they're probably closer than you think.
Numerous aquatic bungalows have popped up throughout the Caribbean in recent years, finally giving eager Americans the chance to indulge in a romantic overwater escapade, sans the jet lag.
Let's take a look at the best options the region has to offer to help you plan a romantic holiday or honeymoon.
Overwater Bungalows Caribbean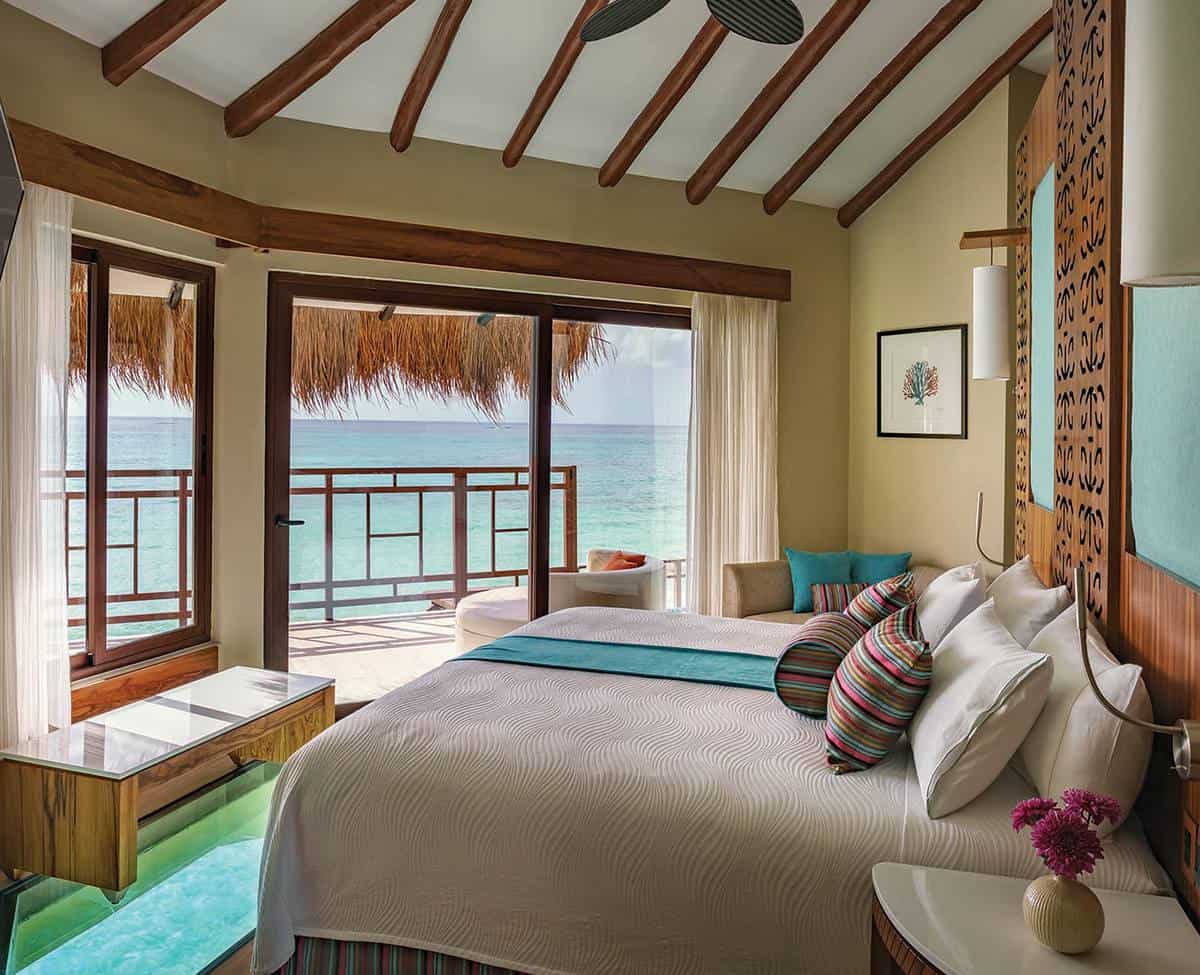 El Dorado Palafitos, Maroma Beach, Mexico
As the first overwater bungalows to emerge in Mexico back in 2016, I'd argue this groundbreaking resort is both the original and the best.
Case in point: Conde Nast declared El Dorado the fourth best resort in the world, while Discovery rate Maroma as one of the top beaches on Earth. Need I say more?
An exotic ensemble of 30 tiki-style huts rises on stilts from the gentle turquoise waters below, creating a postcard-perfect setting that's on par with its famed Maldivian counterparts.
Each overwater bungalow lays on the rustic charm, brimming with an array of tasteful décor and plush furnishings inspired by the Mayans of old. And if snorkeling through coral-clad Caribbean waters sounds like too much, every room comes complete with an Instagram-worthy infinity pool.
The adults-only resort is ideal for loved up couples and lies a 40-minute drive from Cancun Airport or 10 minutes from Playa del Carmen.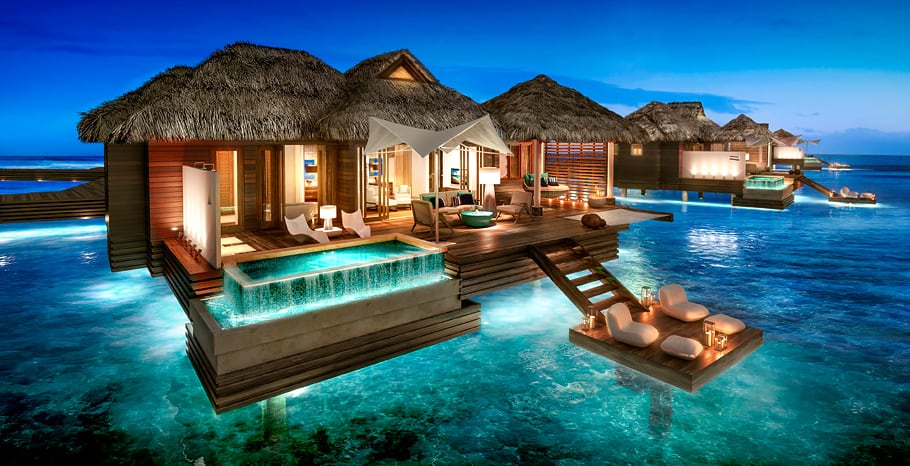 Sandals Royal Caribbean, Jamaica
The all-inclusive Sandals Royal Caribbean was Jamaica's highly anticipated answer to El Dorado's breakout success, inaugurating the same year to much industry fanfare. And all that hype wasn't for nothing, because these sumptuous overwater villas are among the most sought-after sea level lodgings in the region.
Each of the 17 sumptuous overwater suites features a private infinity pool and a glass-bottom floor panel, allowing guests to immerse themselves in the maritime theme. A quiet location on a discreet private island creates a secluded vibe, which feels a world away from the marauding vacationers that occupy nearby Montego Bay. Nevertheless, a private chauffeur is always on hand to whisk guests back to the mainland should they desire.
Sandals Royal Caribbean lies within easy reach of Montego Bay Airport, from which direct flights serve several US cities.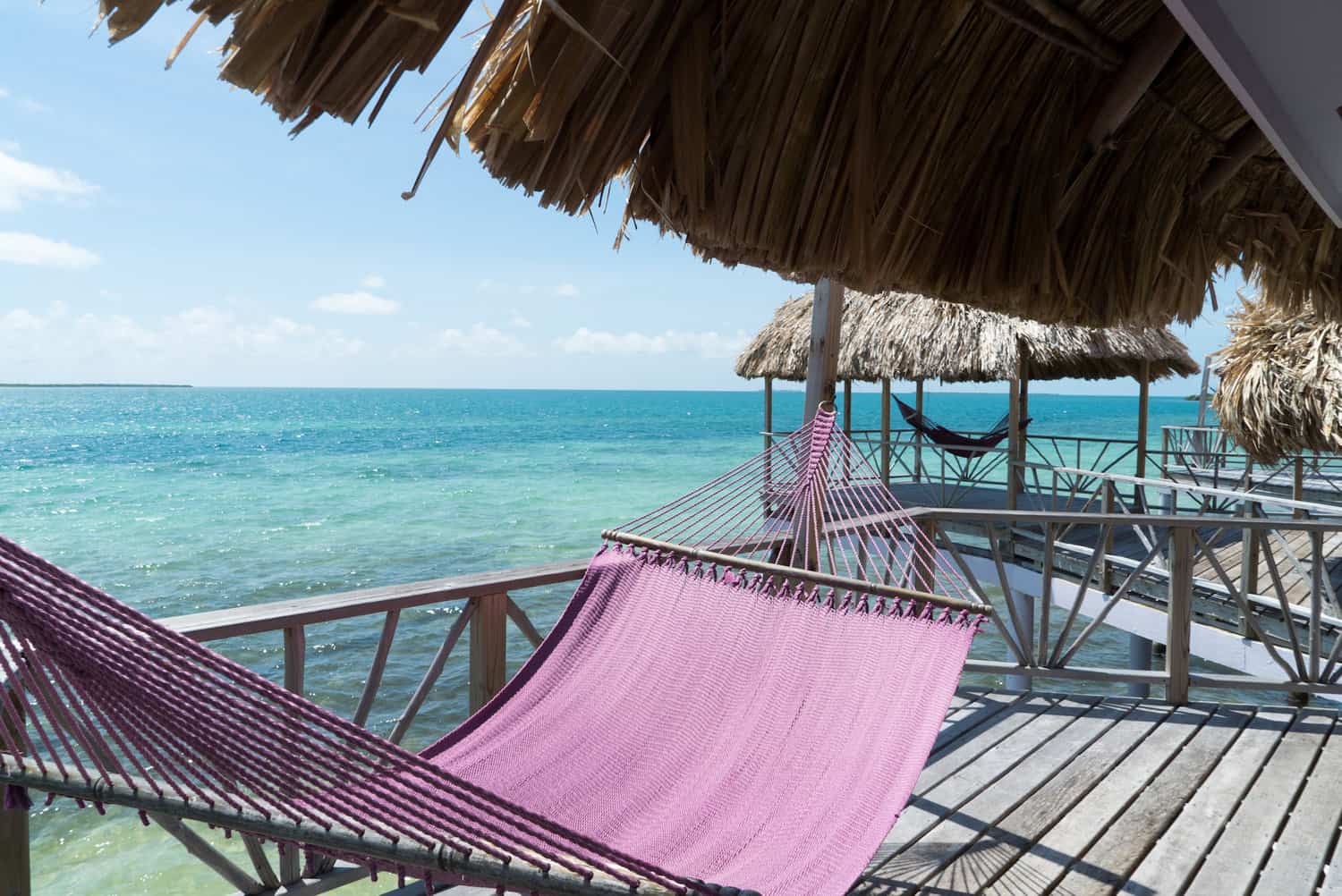 Thatch Caye Resort, Belize
Nestled within a near-deserted island off the palm-studded coast of Belize, the Thatch Caye Resort offers affordable aquatic accommodations for budget-conscious travelers.
Don't come expecting a lavish five-star resort, for these humble wooden huts are a far cry from some of the other extravagant options on our list. Nonetheless, soaking up Belize's world-class tropical views from these bungalows is a quintessential Caribbean experience that won't break the bank.
The renewable energy powered eco-resort encourages guests to undertake a digital detox and reconnect with nature as well as their fellow human beings: all meals are served in a communal setting to promote interaction, while WiFi is restricted to certain areas of the resort. But don't worry about getting bored, because an array of aquatic activities such as snorkeling, sailing, swimming, and SCUBA literally lie at your doorstep.
The 9-mile boat ride from Dangriga Harbour takes 25 minutes, from where there are brief connecting flights to the international airport in Belize City.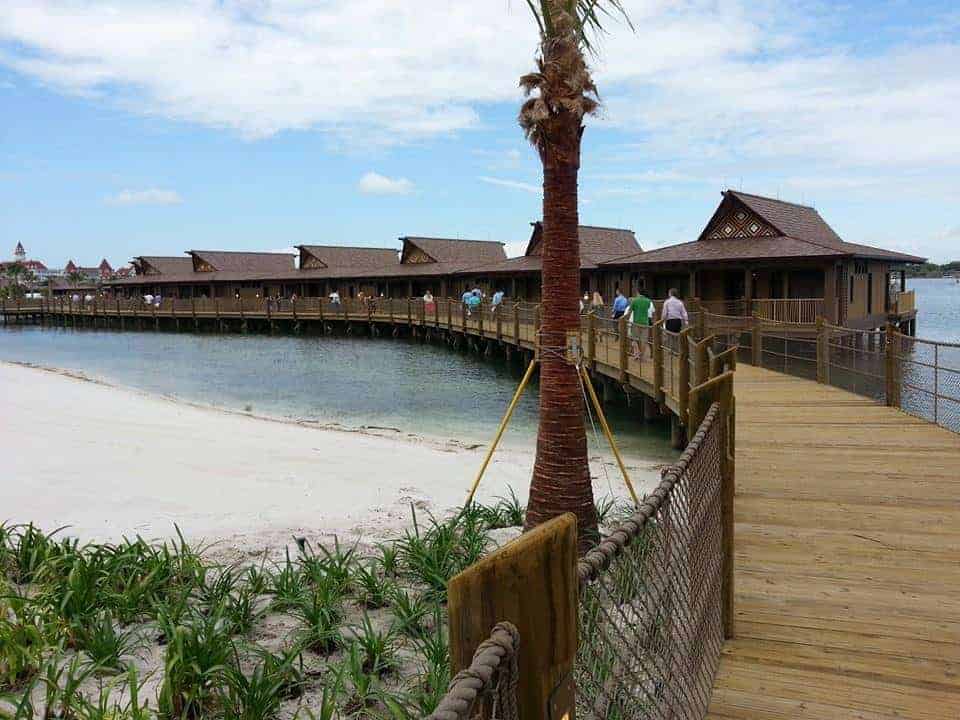 Disney's Polynesian Bungalows, Florida
Who said you had to leave our shores to indulge in an overwater bungalow experience?
The world-famous Disney Orlando Resort features 20 Polynesian-style huts set above the glistening waters of Lake Buena Vista.
Granted, there's a distinct lack of clear turquoise water and blindingly white sand. Nevertheless, the resort does at least offer a child-friendly overwater bungalow experience the whole family can enjoy.
And as a nice little bonus, you won't have to bother applying for a passport when planning a visit.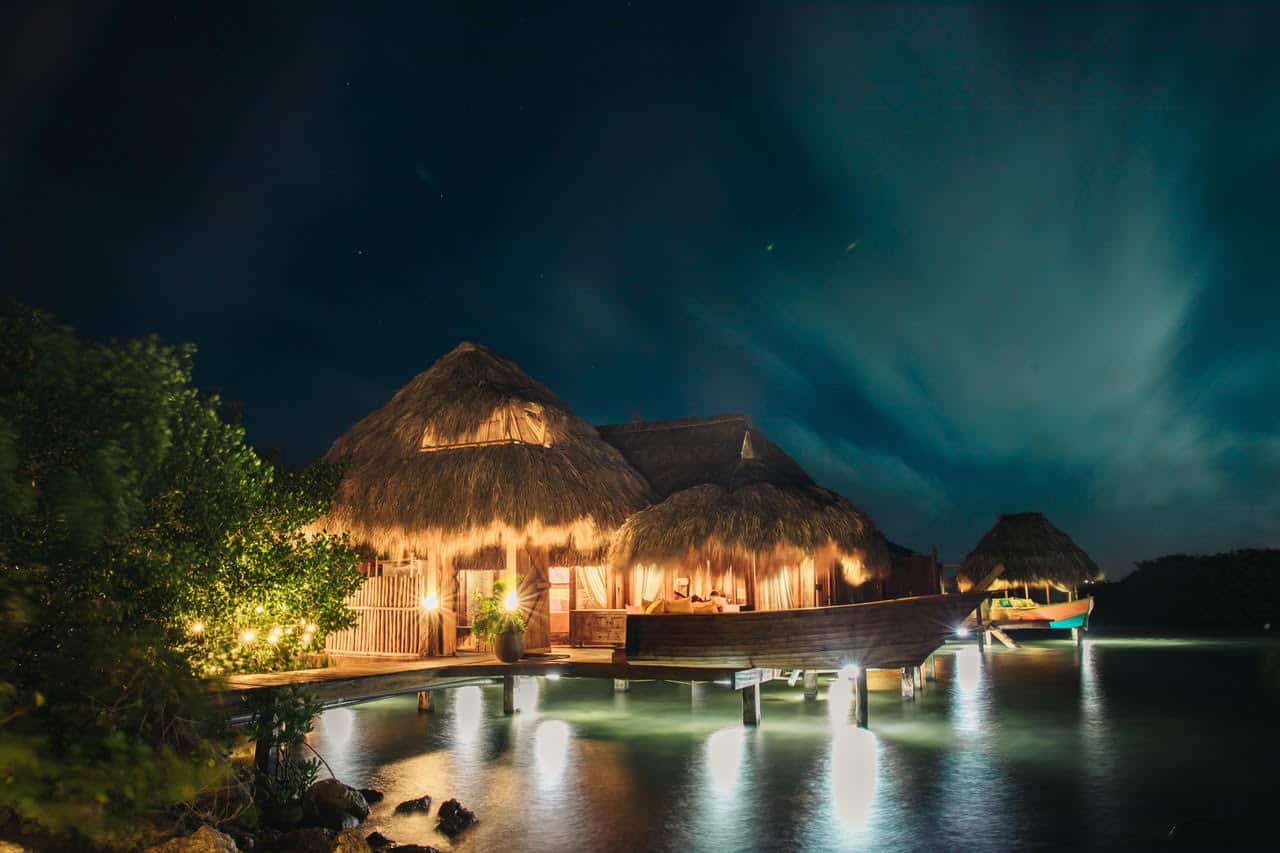 Aruba Ocean Villas, Aruba
The long-time favorite luxury destination of Aruba as a contender to the Caribbean overwater bungalow scene: the Aruba Ocean Villas.
Although the boutique seaside resort only has a handful of overwater bungalows on offer, these are probably the most whimsical aquatic lodgings on the market. Eccentric local artist Osyth has harnessed her creative chakra to design a ramshackle selection of rustic residences that include all the essential creature comforts.
Such is the unorthodox appeal of these offbeat overwater bungalows; the resort has become a hit among luxury travel Instagram influencers.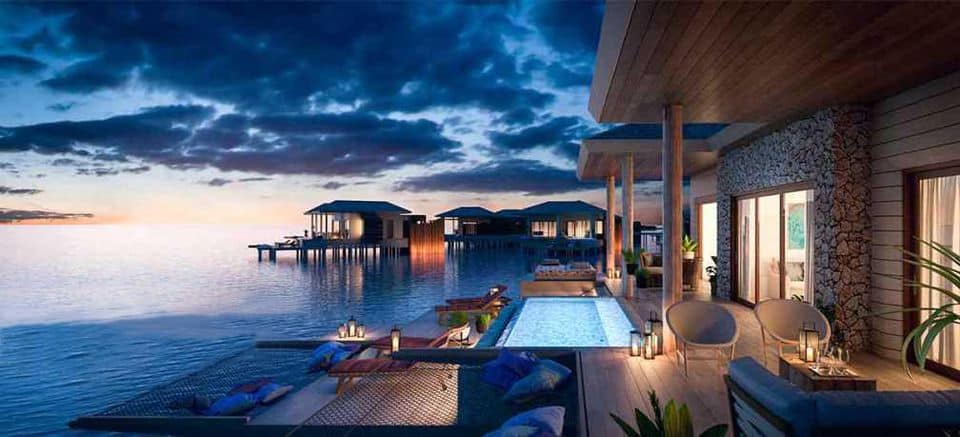 Viceroy Bocas del Toro, Panama
One to think about for the future, the ultra-lux Viceroy Bocas del Toro isn't scheduled to open until 2021. But when it does, this 457-acre slice of tropical paradise is set to redefine the overwater bungalow scene in Central America and beyond.
No less than 42 overwater accommodations have been penciled in for completion, making it the most extensive collection in the entire western hemisphere. First-rate furnishings, chic contemporary design, and photo-friendly infinity pools are just some of the features to look forward too.
Eight onsite restaurants will feed the hungry masses, while a smorgasbord of modern indulgences will line the shorefront: spas, bars, gyms, and yoga retreats.
Any of these overwater bungalows tickle your fancy? Then cast your dreams of a Maldivian vacation aside and check out what's on our doorstep instead.
Start Planning Your All-Inclusive Vacation Today!
Get a quote and start planning your All-Inclusive Vacation, Wedding or Honeymoon today.