When it comes to free, Beaches Resort outdoes them all! This all-inclusive resort makes having fun, relaxing, and even eating and drinking so effortless. Really, there is no reason to pay for anything when you visit any of the three Beaches Resorts, but they do offer some paid activities. There are so many free things to do, that you will have a hard time fitting them all in your stay.
We're here to help you with that, however, by highlighting the most exciting and unforgettable experiences that Beaches Resort has to offer. Below you will find the top six things that you would be crazy to miss on your stay at one of these resorts.
Scuba Diving-
If you and your honey are certified scuba divers, Beaches Resort offers free diving. This is no ho-hum dive. We're talking an award-winning diving experience. PADI named Beaches Resort one of the top 5 dive operations in the western hemisphere, so you know they are safe and reliable.
What kind of views can you expect? The beautiful waters of the Jamaican islands showcase corals, a colorful collection of fishes, eels, rays, and even some sharks. You can expect to see sea turtles up close and underwater vegetation.
If you aren't certified, don't worry. Beaches resort offers certification on site for a fraction of the cost of normal certification practices. You can take an even smaller certification course and be able to do a less invasive dive but still be able to use the boat, scuba gear, and professional dive leaders for free.
The dives offered at each of the three locations will differ(obviously), but they all offer a variety of dives with differing difficulties and depths. If this activity has got you all excited, the Turks and Caicos location is supposed to offer some of the most breathtaking dives in the world.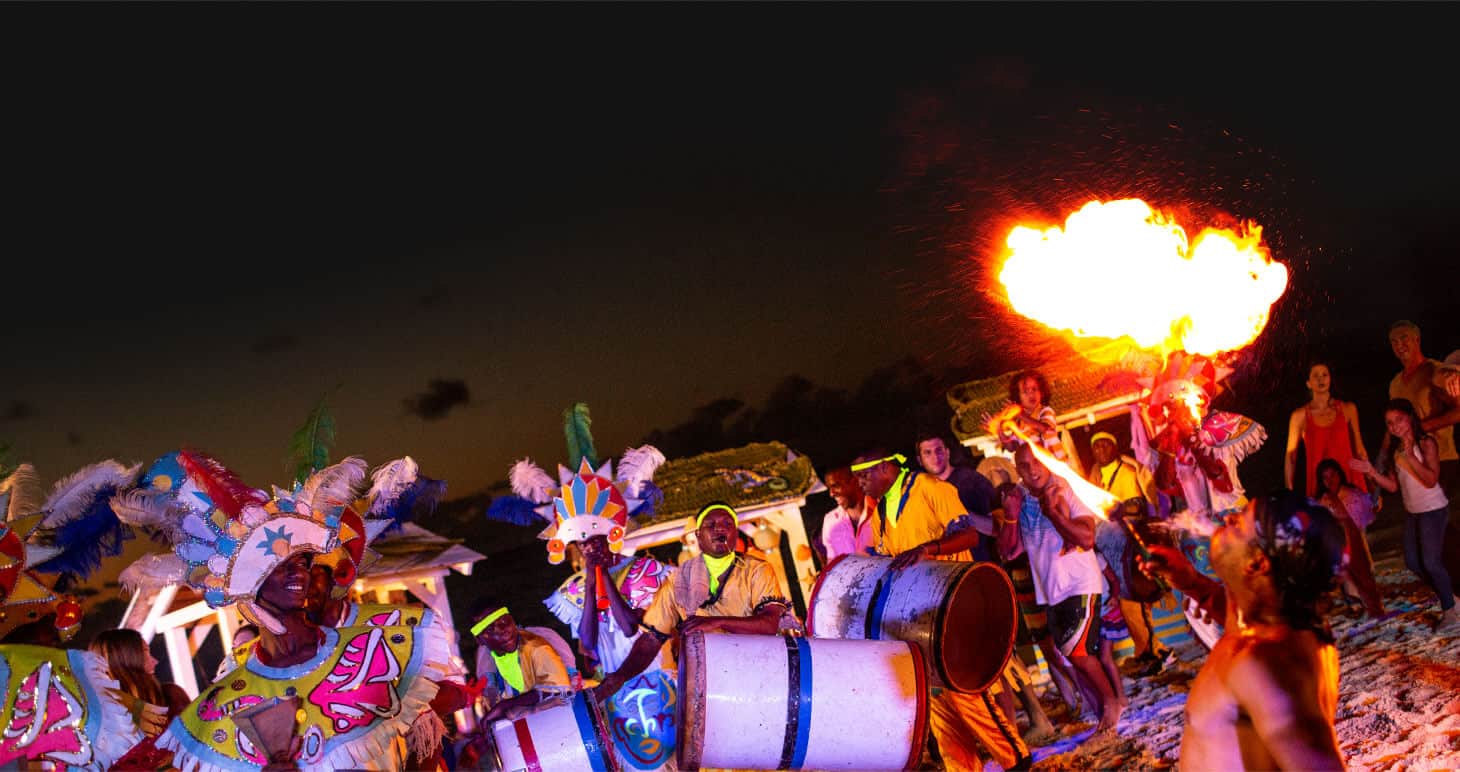 Bonfires and Beach Parties-
It's your honeymoon. It's time to get your partying shoes on and dance on the beach! Picture tiki lamps, a roaring bonfire and authentic dancers and music from the Caribbean islands, all under the clear starlit skies.
Every week, Beaches throws an unforgettable beach party. They put out a spread of delicious foods, and of course, free booze. They will have extra entertainment to make you throw in a few oohs and ahhs.  Some of the traditional culture is displayed and experienced like rhythmic drums and fire eaters.
After a relaxing day on the beach or by the pool, there's nothing better than an upbeat atmosphere to share some cocktails and enjoy the cool night breeze. These nights on the beach will be liberating and memorable for both of you for years to come.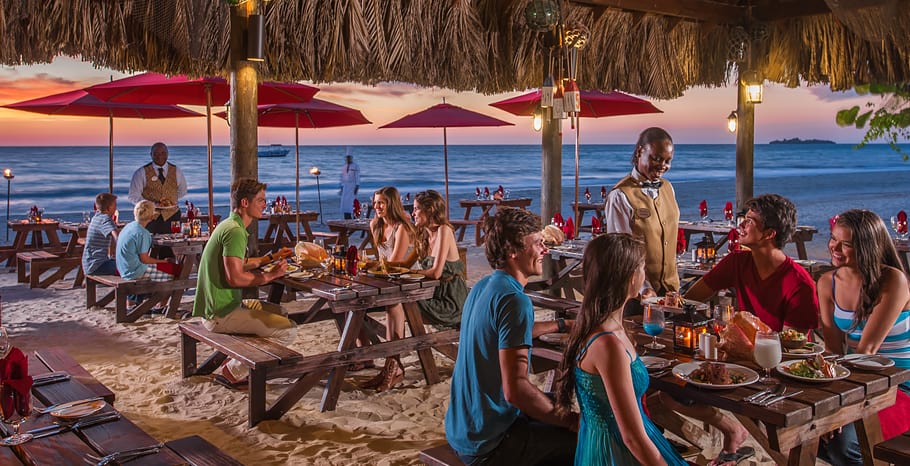 Bar Hopping-
Each of the three Beaches resort has up to 15 bars. This is the perfect bar hopping because you don't have to worry about a cab, you just walk (or swim) from bar to bar.
Each bar is unique, and some have an international flavor. For example, the Turks and Caicos resort has an English Pub called Cricketer's and the atmosphere is very fitting. With high upholstered bar stools and wood paneling throughout, you can sit back and enjoy a Guinness and feel like a merry ole chap.
A great starting point would be at one of the many tiki beach bars and grab a coconut filled with delicious Jamaican rum. You can even grab a drink in the pool from one of the swim-up bars.
Then you can move on to something a bit fancier like one of the piano bars that Beaches offers. Sip on a fancy drink while you listen to the cool tones of piano jazz and chat about deep subjects.
When it comes to having a drink, you have plenty to choose from. The beauty of it all is that it's completely free! All premium liquors, wine, and drinks you order are included in the price of your stay. Bottoms up!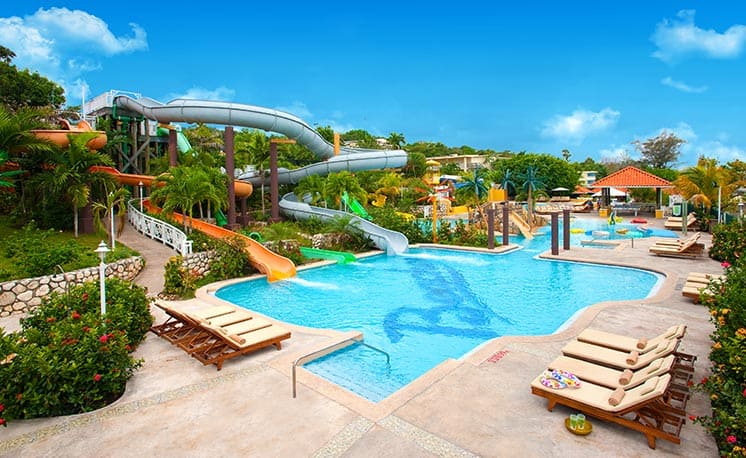 Pirates Island Waterpark-
If you're up for an adventure and feeling like a kid again, why not visit the Pirates Island Waterpark included in each Beaches Resort? Waterparks are fun and this one if free!
Get a little adrenaline pumping through you by taking the super-fast, high water slides. Or avoid adrenaline altogether and take a leisurely float down the lazy river.
If you've always wanted to try your hand at surfing, you can do it here with the surf simulator. There is a waterfall pool, a whirlpool, and much more.
Want to avoid the swarms of kiddies? Try it early in the morning or close to closing.
Paddle Boarding-
The variety of things to do in the water at Beaches Resort is endless. We just talked about the waterpark and mentioned scuba diving, but the list just goes on and on. If you love the turquoise waters of the Caribbean and are dying to get out on the ocean, you'll be a happy couple of campers here.
Paddleboarding is one of the many water sports available to do at these resorts that is absolutely free. If paddleboarding isn't your thing, they offer aqua trikes, tubing or waterskiing. Windsurfing, kayaking, scuba diving, and Hobie Cats are also available to use for free.
I know what you are thinking. You'd have to write out a schedule to fit all these activities in! But I suggest that you chose two that you want to really enjoy and linger in and maybe a third to just try out. That way, you really get to learn the art of these water sports and not just feel like a total newbie.
Of course, the amount that you can fit in all depends on the length of your stay, so the longer you stay the more activities you get to enjoy!
Eat, Eat, Eat! –
The variety of foods available at Beaches Resorts will make anyone feel like a king and queen. The all-inclusive menus of the up to 21 different restaurants will ensure that you never go hungry while on your honeymoon. You might need the extra energy (hint, hint). Of course, you don't want to go overboard because you still want to look good in your bathing suit.
There are several restaurants that make their mark on a visitor's tongue. One of the most memorable and delicious restaurants is Schooner's Seafood grill. This restaurant gives you delectable seafood that melts in your mouth in a seaside atmosphere. They even offer some of the local fares like conch and mollusks. Of course, they offer a juicy steak, too.
Another very popular restaurant on the resort is Kimono's Oriental Cuisine. This is one of those restaurants where the chef isn't just to cook but to entertain. You'll be dazzled by some amazing tricks with fire and knives then blown away with delicious food perfectly spiced and grilled to order.
These are just a few of the amazingly entertaining things that Beaches Resort offers its guests. Sounds tantalizing doesn't it? Let us plan your stay and make everything tip-top for your perfect honeymoon and remember these days for a lifetime.
Start Planning Your All-Inclusive Vacation Today!
Get a quote and start planning your All-Inclusive Vacation, Wedding or Honeymoon today.